Toronto-Dominion, CIBC Profits Rise on Capital Markets Gains
By
CIBC shares climb to record as results top analysts' estimates

TD sees earnings in its Canadian retail businesses stall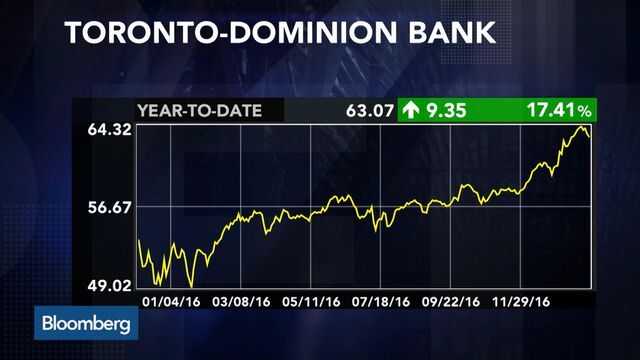 Toronto-Dominion Bank and Canadian Imperial Bank of Commerce reported higher fiscal fourth-quarter profit on gains in capital markets, helping counter slower growth in their domestic retail businesses.
Toronto-Dominion's net income for the period ended Oct. 31 rose 25 percent to C$2.3 billion ($1.7 billion), or C$1.20 a share, from a year earlier, while CIBC's increased 20 percent to C$931 million, or C$2.32. CIBC joined Bank of Nova Scotia, which reported results Tuesday, in beating analysts' estimates, while Toronto-Dominion matched expectations.
"CIBC beat because of capital markets, good expense discipline and outsized residential mortgage growth, and the reason TD didn't beat was because of high expenses," Steve Belisle, a fund manager with Manulife Asset Management, said in an interview. "That doesn't make me want to jump on CIBC's shares this morning, nor TD's."
Toronto-Dominion fell 1 percent to C$62.79 at 9:45 a.m. in Toronto, while CIBC rose 1.7 percent to a record C$107.82.
Toronto-Dominion's U.S. retail lender, TD Bank, contributed an increasing share of the company's overall profit this year as growth in Canadian banking operations slowed. Earnings from the wholesale business also have increased under the firm's strategy of expanding corporate lending and investment banking in the U.S.
'Well Poised'
"Where the Canadian market moderated, the performance of our U.S. retail and wholesale franchise grew overall," Chief Financial Officer Riaz Ahmed said in a telephone interview. "For 2017 we expect similar trends: The U.S. economic picture is brightening and I think we're well poised to continue to grow earnings."
Earnings from Canadian retail, which includes insurance and wealth management, were little changed at C$1.5 billion, while profit from its U.S. retail business, including its stake in the TD Ameritrade Holding Corp. brokerage, increased 18 percent to C$701 million. Wholesale banking rose 21 percent to C$238 million on higher origination activity in debt and equity capital markets, and gains in fixed-income trading.
CIBC's results were fueled by a 52 percent jump in capital markets earnings to C$276 million, lifted by a surge in trading revenue. Profit from retail and business banking rose 2.2 percent to C$687 million. The Toronto-based lender, Canada's fifth-largest, also raised its quarterly dividend 2.5 percent to C$1.24 a share.
Cuts Target
CIBC followed Royal Bank of Canada in cutting its medium-term financial target for return on equity, revising it to 15 percent-plus from an earlier range of 18 percent to 20 percent. Chief Executive Officer Victor Dodig reiterated the bank's goal of earnings-per-share growth of at least 5 percent annually.
"I think it'll be harder to achieve in 2017 given the environmental headwinds and our integration of our acquisition of the PrivateBank, though we will try to work toward that five percent," Dodig said in a conference call with analysts. He said the $3.8 billion takeover of Chicago-based PrivateBancorp Inc. is expected to be completed by the end of March.
National Bank of Canada is scheduled to report results Friday, followed by Bank of Montreal on Dec. 6.
Before it's here, it's on the Bloomberg Terminal.
LEARN MORE