Merkel's Riskiest Election Holds Pitfalls From Trump to Bavaria
By and
Looking safe now, German chancellor faces volatile electorate

Party convention marks first hurdle in bid for fourth term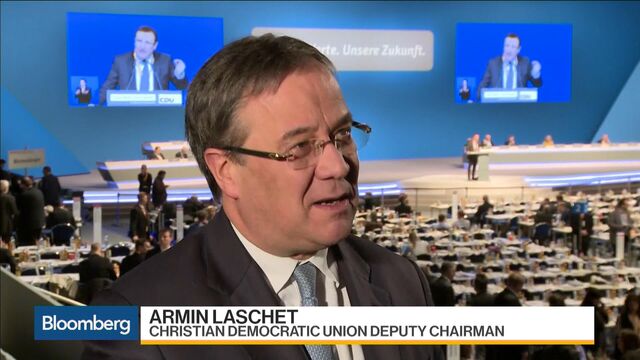 Germany's last chancellor to make it to four terms, Helmut Kohl, presided over the fall of the Berlin Wall, a moment of triumph for liberal democracy in Europe. Angela Merkel, whose path to power opened up with German reunification, is seeking to match his feat in a world where barriers are going back up and political longevity looks like a liability. Here's a look at the risks and hurdles ahead as she prepares to contest next year's federal election.
For a special report on Europe's upcoming political challenges, click here
After 11 years in power, Merkel, 62, has to deal with an upstart populist party, Donald Trump's ascent to the White House, a resurgent Russia and challenges from migrant flows to a splintering Europe. "The atmosphere is more volatile, more contested," said Carsten Nickel, a risk analyst at Teneo Intelligence in London.
At the last federal election, in 2013, Merkel was greeted at campaign stops by cheering crowds waving signs reading "Angie." Polls suggest she won't come close to the German equivalent of a landslide she won back then. Merkel has acknowledged the trials ahead, saying the vote next fall will be "a difficult one like no other before it."
1. Will Merkel's party rally behind her candidacy next week?
Merkel's decision to keep Germany's borders open during last year's refugee influx polarized her Christian Democratic Union. That's empowered critics such as the party member who urged her to step down at a town hall on Monday, barely a week after she said she'll run again. Her first hurdle comes on Tuesday when some 1,000 national delegates at a party convention in Essen, Germany, will be asked to confirm her as party head. Two years ago, she was re-elected with 97 percent support. Polls suggest Merkel's declaring her candidacy has given a bump to the CDU and its Bavarian ally, the Christian Social Union. A ZDF survey last week said 64 percent of respondents are pleased that Merkel is running. The result of this year's party vote, a prerequisite for the convention to nominate her as chancellor candidate, will be parsed for signs of dissatisfaction.

2. Can Bavaria torpedo Merkel's bid?
The CSU, which has ruled the home state of BMW AG and Allianz SE since World War II, has held off on endorsing Merkel. Party head Horst Seehofer says he wants Merkel to impose a cap on migration, which she rejects for moral, legal and practical reasons. The sister parties have 10 months to make up and agree on a joint strategy, or run the risk of the CSU taking the unprecedented step of campaigning on its own platform and putting up a competing candidate.
3. Can Alternative for Germany stop Merkel?
The anti-immigration Alternative for Germany, or AfD, is branding Merkel as public enemy No. 1 at rallies and on social media. CDU planners expect their get-out-the-vote volunteers to face a much more aggressive mood of protest across Germany than in past election cycles, according to a party official who asked not to be identified discussing the campaign. If the AfD drains enough votes from other parties, it could prevent the CDU from heading the next government. The AfD is polling as high as 13.5 percent nationally.
4. Who is Merkel's main challenger?
The Social Democrats plan to present their candidate in January. Polls suggest that European Parliament President Martin Schulz, who's returning to German politics, might do better against Merkel than party head Sigmar Gabriel, her economy minister and deputy chancellor. All national polls put the SPD in second place, meaning the election may lead to a rerun of Merkel's existing coalition. Still, declining CDU support and the rise of the AfD create a "dramatically different situation" that makes it "much harder to find a governing majority" than four years ago, Forsa chief pollster Manfred Guellner said. The Social Democrats might try to dump Merkel and form a government with the Greens and the anti-capitalist Left party if all three win enough votes.
5. Is Merkel out on a limb with German voters?
Merkel urges Germans to embrace globalization as a source of prosperity, a stance she's upheld amid the AfD's rise. She's refusing to bury a proposed EU-U.S. trade deal, even after mass demonstrations against the accord and the Social Democrats declared it dead. She's holding to unpopular sanctions on Russia, but most of all, she has stuck to a refugee policy that's split public opinion. Yet Germany's economy and increased spending on social programs may help to limit the downside: the jobless rate was unchanged at 6 percent in November, the lowest since German reunification, disposable incomes are rising and the government expects growth to slow only slightly next year. A campaign pledge to cut taxes might also help rally core voters.
6. What about outside factors?
Merkel assumed the yearlong presidency of the Group of 20 this week, giving her a global stage that includes a summit of world leaders in Hamburg in July, two months before the election. While she's at home in the international arena, Trump's emerging agenda may prove to be the biggest wild card. It threatens Merkel's stand on everything from economic sanctions on Russia (she backs them) to free trade (Merkel and Obama upheld it) and climate change, where Germany's G-20 agenda calls for "ambitious implementation" of the Paris climate accord. Prime Minister Theresa May's plan to lead the U.K. out of the European Union is another friction point as Merkel pledges to hold the remaining EU together. Brexit negotiations will probably start in April, and could interfere with Germany's G-20 goals.
7. Where else is Merkel vulnerable?
A repeat of last New Year's sexual assaults blamed mostly on migrants would undermine Merkel, as would any further terror attacks by radicalized immigrants. Also part of the equation: Turkish President Recep Tayyip Erdogan, who has repeatedly threatened to renege on a refugee accord with the EU that Merkel credits with stemming the influx. All these factors could boost the AfD and complicate her return to power. "If we don't see a major disruption, a renewal of mass migration or some other disruptive event, my view is that the AfD will not grow, but rather shrink," said Josef Janning, head of the Berlin office of the European Council on Foreign Relations.
— With assistance by Rainer Buergin
Before it's here, it's on the Bloomberg Terminal.
LEARN MORE