Ghana Presidential Contenders Sign Peace Pact Ahead of Elections
By
All seven candidates pledge against election violence

Ghana will vote for a president and lawmakers on Dec.7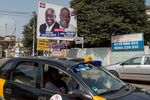 Presidential contenders in Ghana's elections next week committed themselves and their parties to a peaceful vote.
All seven candidates, including President John Mahama and the main opposition leader, Nana Akufo-Addo, pledged that their supporters will follow electoral rules and won't resort to violence during a ceremony overseen by Chief Justice Georgina Wood in the capital, Accra.
"Our democracy and progress is too precious to be gambled away on an alter of unbridled quest to attain or hold on to political power," Mahama said. "I have more to lose than any of the other candidates if this country breaks out in violence."
Mahama, flagbearer of the National Democratic Congress, will seek a second term on Dec. 7 when he faces Akufo-Addo of the New Patriotic Party, the same candidate he beat in 2012. Akufo-Addo challenged the 2012 result after losing by almost 326,000 votes and alleged that thousands of ballots cast were invalid, citing counting irregularities. Mahama won with 50.7 percent.
"It is in our collective interest that we all develop respect for the rules of elections," Akufo-Addo said. "The NPP will not do anything to endanger the peace of the nation in anyway during this elections."
Security Forces
The Electoral Commission said it will resolve the "challenges" faced by security forces during an early voting round on Thursday. Some members of the military, police and other agencies couldn't cast their votes because their names didn't appear on a special voters roll, Eric Dzakpasu, a spokesman for the commission, said in an interview.
"We urge the security personnel affected to remain calm," the commission said in a statement. "Appropriate arrangements will be made for them all to vote."
Before it's here, it's on the Bloomberg Terminal.
LEARN MORE