Europe's Other Cliffhanger Has Austria Torn on Presidency Rerun
by and
Country decides between EU-skeptic and former Green Party head

Delayed rerun coincides with Italy constitutional referendum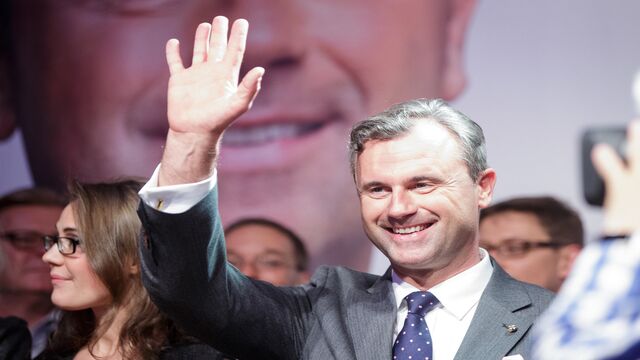 When Austrians elected their president in May, Michael Oswald decided at the last moment to back the rival populist candidate. Now that he's got a second shot, he's not so sure.
"I'm reconsidering," the Protestant pastor said as he strolled through the center of Eisenstadt with his two-year-old son, while around them workers erected the town's traditional Christmas market. "The problem is only extremes are left."
Austrians face a rerun of the presidential election on Sunday that offers them a choice of two candidates from opposite ends of the political spectrum: Alexander Van der Bellen, a former Green Party leader standing as an independent; and Norbert Hofer of the anti-immigration Freedom Party.
While on the surface the ballot is for a largely ceremonial post, the contest has exposed deep divisions within society given the stark ideological differences between the candidates on issues like Austria's place in the European Union and whether to welcome refugees or erect barriers against them. 
'Seismic Shift'
With more than just politics at stake, both candidates are vying to win over the 10 percent of voters like Oswald who say they have yet to make up their mind. In the May 22 ballot, only 31,000 votes tipped the balance for Van der Bellen and the rerun, ordered after a court found vote-counting rules weren't observed, is again too close to call. The election came down to Van der Bellen and Hofer after candidates from the two governing parties were eliminated in early voting.
Read more: Why Austria's election is making history -- a QuickTake Q&A
"It's been a seismic shift already that neither of the mainstream parties could get their candidates past the first round," said Peter Hajek, a polling expert and consultant based in Vienna.
Voting takes place on the same day as a referendum in Italy that could cost Prime Minister Matteo Renzi his job, and both ballots have become proxies for the western world's struggle between liberal forces and the populist surge fanning nationalist sentiment from Nebraska to the Netherlands.
That global struggle is playing out in Eisenstadt, a town of 14,000 in the province of Burgenland, where the presidential candidates were just 54 votes apart in May. That makes the capital of the wine-producing and vacation region southeast of Vienna exactly the sort of battleground both Van der Bellen and Hofer are trying to reach.
'People Want Change'
"The whole political situation is shifting," said Johannes Horvath, a retired manager in the renewable-energy sector who said he voted for Van der Bellen in May and plans to do so again. Like Oswald, the pastor, he cited concerns about the spill-over effect of Donald Trump's election in the U.S., while acknowledging Trump's success in tapping into voter disaffection. "I wouldn't have thought Trump would win but in hindsight, I understand, because people want change," said Horvath.
Latest polls show the race statistically tied. Van der Bellen led Hofer by 51 percent to 49 percent in a Unique Research poll published in Oesterreich newspaper on Nov. 18, while a Gallup poll the previous day put Hofer ahead by 52 percent to 48 percent -- both results within the margin of error.
The breakdown of Hofer and Van der Bellen supporters follows patterns similar to the U.K.'s June vote for Brexit and Trump's election. Hofer's backers are predominantly male, blue-collar and rural, according to an exit poll from May's election. More than 80 percent of university graduates voted for Van der Bellen, while two-thirds of those with vocational training cast their ballot for Hofer.
Added to the demographic divide is a dispute over the latent power of the Austrian presidency -- what Hajek called "a sleeping giant" -- and how each candidate would use it.
The president's central power is the ability to appoint and dismiss the government and call snap elections. No post-World War II president has ever exercised that power unless asked to do so by the government itself, following a tradition of consensus politics that has shaped Austria after the divisive years of civil unrest and authoritarian rule in the 1920s. Both candidates have made clear they'll push at the boundaries of the role's constitutional powers.
Campaign Trail
Van der Bellen presents himself as a firewall against nationalist forces that want Austria to leave the EU, and has said he might not appoint a government led by the Freedom Party's leader, Heinz-Christian Strache, if he felt that membership in the bloc was at risk.
"I don't want Austria to be the first western European country where right-wing demagogues come to power," Van der Bellen said a few days after Trump's victory.
On the campaign trail, Hofer has said he would have sacked the government last year -- when Austria allowed in tens of thousands of refugees -- and that he's offering disgruntled voters a channel for their anger at unpopular leaders in Vienna and Brussels.
A vote for Van der Bellen "is a clear signal that you're satisfied with the government's policies," Hofer said. "Voting for me is a clear signal that something has got to change."
Before it's here, it's on the Bloomberg Terminal.
LEARN MORE