California's Attorney General Pick Seen as Foil in Trump Era
By , , and
Governor Brown selects Clinton ally to succeed Kamala Harris

High-profile role on collision course with Trump White House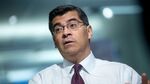 Longtime Los Angeles lawmaker Xavier Becerra, a Hillary Clinton ally who might have been in her cabinet if she had become president, was named as California's attorney general, a post that may put him in sharp conflict with the incoming Trump administration.
Becerra will succeed Attorney General Kamala Harris, whose election to the U.S. Senate last month after five years as the state's top prosecutor gave Democratic Governor Jerry Brown a rare opportunity to hand-pick the most populous state's top lawyer.
Harris, like her predecessors including Brown, frequently took leadership roles in some of the country's highest-profile consumer and environmental fights. She spearheaded crackdowns on mortgage and foreclosure abuses, human trafficking, data privacy and hacking. This year, her office helped negotiate a $14.7 billion settlement with Volkswagen AG after state regulators documented its rigging of diesel engines to cheat pollution tests.
Brown, who has called President-elect Donald Trump "a fraud" over the Republican's 2012 comment that climate change is a hoax, said in the second paragraph of his statement Wednesday announcing Becerra's nomination that he's counting on him to "aggressively combat" climate change.
Becerra told reporters Thursday his priorities would be to advance the "forward-leaning progress" California has made in clean energy, immigration, public health and criminal justice.
Becerra, 58, was first elected to the House of Representatives in 1992, serving the 34th congressional district that includes downtown Los Angeles, and was chairman of the House Democratic Caucus and a member of the Ways and Means Committee. Born to a mother who immigrated from Mexico, Becerra is now the highest-ranking Hispanic serving in Congress, where he was part of a bipartisan group of congressmen who unsuccessfully sought to forge an immigration overhaul bill.
Read More: California's Democrats Are Ready for Political War
That background may fortify resistance in Sacramento to Trump's campaign pledge to deport millions of undocumented immigrants. Trump proposed building a wall to prevent migrants from crossing the southern U.S. border and having Mexico pay for it -- an idea Brown termed "absolutely preposterous" in March.
Returning to lead the office where he once worked as a deputy, Becerra will oversee the largest public law agency in the nation outside of the U.S. Justice Department. He will serve as legal counsel to California's state officers and agencies, supervisor of statewide law enforcement agencies and adviser to local governments.
He will be at the crossroads of figuring out when federal law displaces state law, said Stanford Law professor David Sklansky.
Brown is "anticipating that there may be conflicts between the state's agenda on environmental protection and climate change, and the federal agenda,"  Sklansky said. "That's been true in the past and there's reason to think with Trump's election it may be in the future."
New York Attorney General Eric Schneiderman congratulated Becerra in a Twitter posting that welcomed an alliance between the two Democrats whose offices are among the most active in the U.S. in protecting consumers and the environment.
'Shared Commitment'
"Look forward to working w/ you & pursuing NY and CA's shared commitment to equal justice," Schneiderman tweeted.
Harris, the attorney general since 2011, defeated Democratic Representative Loretta Sanchez last month in a race to succeed retiring Senator Barbara Boxer. Becerra's nomination will be officially submitted after Harris resigns and is subject to confirmation from the state legislature, Brown said in a statement.
"Xavier has been an outstanding public servant -- in the state legislature, the U.S. Congress and as a deputy attorney general," Brown said in the statement. "I'm confident he will be a champion for all Californians and help our state aggressively combat climate change."
Becerra was an active surrogate for Clinton's campaign. His name had been mentioned and was on internal Clinton lists as a potential vice presidential pick, or for a cabinet post.
When Clinton lost, Becerra had seemed an odd man out. He was term-limited from his job as the House Democratic Caucus chairman, and none of the three other House Democratic leaders led by Nancy Pelosi are moving on from their posts. Earlier in his career, Becerra was a state deputy attorney general in the late 1980s and a state legislator in the early 1990s. He ran unsuccessfully for Los Angeles mayor in 2001.
Becerra 'Stunned'
In a conference call with reporters Becerra said he was "stunned" by Brown's nomination, which he said moved very quickly after a phone call from the governor.
Echoing Clinton's vision for the U.S., Becerra said he wanted to help make California the "clean energy superpower of the country." For the state's immigrants, he said, "no one who goes to a grocery store should believe that the state of California is going to do anything to prevent them from going home" to their families.
"You're talking to the son of immigrants," Becerra said. All Californians should have "every chance I had to be the first to go to college" and "walk through the doors of the White House" to meet the president.
In choosing Becerra, Brown passed over half a dozen names seen by political insiders as most likely to get the job, including his wife, Anne Gust Brown, as well as several Democrats who have already started raising funds to run for the office in 2018.
Front-Runner
With a two-year head start as the incumbent, Becerra would hold front-runner status if he runs for a four-year term.
Former California Governor Gray Davis, a Democrat who said he knows Becerra well from decades of public events including labor rallies and Chamber of Commerce meetings, said being at "cross-purposes" with a president opposed to the state's interests comes with the attorney general's territory.
He recalled a fight that Brown as attorney general waged with the Bush administration to implement auto emission regulations that Davis introduced. If the Trump administration attempts to roll back progress California has made in reducing emissions, Becerra can argue that federal law allows the state to set its own standards, Davis said.
"One way or another he will be averse to any efforts to keep California from observing its own law."