Brexit Bulletin: Will the U.K. Pay to Play?
Britain and the EU agree the Brexit deadline is tight; May has a solution, but Europe might not like it.
by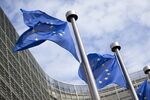 Sign up to receive the Brexit Bulletin in your inbox, and follow @Brexit on Twitter.
European Union and U.K. officials signalled they may be willing to accept a Brexit deal in which the U.K. contributes to the bloc's budget in order to secure access to the single market for goods and services.
Britain's Brexit Secretary David Davis told lawmakers in London that his "major criterion" was to ensure that businesses kept the ability to trade with the U.K.'s biggest market after exit from the EU.
In Malta, Dutch Finance Minister Jeroen Dijsselbloem said "we can design new agreements to allow them to enter the internal market and to allow trade to continue," although he said they would come at a cost.
The comments prompted the pound to jump and will surely be welcomed by banks and businesses keen to maintain easy access to the bloc after Brexit.

Tariff-free access to the EU is "essential" to food producers and retailers, chief executive officers including those from Wm Morrison Supermarkets, Dairy Crest Group and J Sainsbury wrote in a letter to The Times on Thursday.
Meanwhile, the Office for National Statistics reported that net migration to the U.K. rose to a near-record in the year prior to June's referendum, a trend likely to keep pressure on Prime Minister Theresa May to win control of labor flows in the Brexit negotiations.

Sequential or Simultaneous? 
The European and British sides may also agree that the time for striking a Brexit deal has shrunk.
While the law allows them two years to negotiate a divorce deal, politicians are now realizing it's more likely they will have 15 months at most if British Prime Minister Theresa May fulfils her pledge to activate talks by the end of the March.
The shorter timeframe is because the European Parliament must rubber-stamp any accord and will require time to do so, especially with elections looming in mid-2019.
As Bloomberg's Tim Ross reports, the intensity and complexity of the talks means the British are keen to discuss terms of withdrawal in parallel with details of a future relationship.
That contrasts with the sequential approach preferred by the 27 other EU members. They want the U.K. first to agree on a departure payment and then settle border arrangements before it could start hammering out its longer-term links to the rest of the bloc.
Citigroup Eyes Frankfurt
Just as politicians are firming up their plans, so are banks.
Citigroup is considering moving some of its London-based equity and interest-rate derivatives traders to Frankfurt after Brexit is triggered, people with knowledge of the matter have told Gavin Finch and Nicholas Comfort of Bloomberg.
The U.S. firm is already in discussions with the German financial regulator BaFin about getting the necessary approvals, said the people, who asked not to be identified because the talks are private. Citigroup's plans could change depending on how the negotiations between the U.K. and European Union develop, one of the people said.
The bank expects to have offices up and running across the region before the end of the expected two-year negotiation period and is in discussions with the European Central Bank and regulators in EU nations including Ireland about relocating other parts of its operations, one of the people said.
"We are evaluating our options as negotiations between the EU and U.K. continue," said Edwina Frawley-Gangahar, a Citigroup spokeswoman, adding that "considerable uncertainty remains" and no decisions have been taken yet.
"London is, and will remain, our EMEA headquarters and a global hub for many of our businesses."
The manoeuvring nevertheless shows banks are shifting from warning about moving jobs from Britain to fleshing out their strategy by picking specific destinations.
Proof of how worried London's finance industry is was on display on Wednesday as a Bank of England survey showed U.K. political risk jumping to the top of the sector's concerns.

Underscoring what's at stake, even usually placid central bankers are at odds. Bank of England Governor Mark Carney said the EU should be wary of damaging the British banking sector, which is "effectively the investment banker" for the region. European Central Bank President Mario Draghi said the previous day that the U.K. would suffer most from the split.
Who Is Gina Miller?
Gina Miller is the lead applicant in the landmark court hearing on whether Theresa May or Parliament has the ultimate authority to trigger Brexit. And it turns out she's not afraid to make enemies, as Bloomberg's Kit Chellel discovered while speaking to her and her hedge fund manager husband Alan.
Since starting an investment firm seven years ago, the couple have picked fights with regulators, fund-management companies and charities.
When opponents start throwing personal insults at her, she says "you know what you are saying is the right thing."

Brexit Bullets
Foreign Secretary Johnson denies Sky News report he supports free movement of people
U.K. manufacturing growth cools to four-month low as costs rise
Labour Party's Starmer says government should guarantee EU citizens' rights as residency applications surge, Guardian reports
Government to begin briefing foreign media on Brexit, says FT
Chancellor Hammond visits Scotland to argue for U.K. unity after Brexit
France says it wants Brexit talks triggered by March
Archbishop of Canterbury says Brexit could mean "division and despair" if not handled properly, says Telegraph
Budget watchdog chairman estimates fiscal cost of Brexit at around £12 billion a year
And Finally…
As the Liberal Democrat party tries to win today's Richmond by-election by making it an electoral test of Brexit, leader Tim Farron is imagining a parallel universe in which voters had chosen to stay in the EU by a small margin.
"If it had been the other way around, 52:48 for 'Remain,' we would not now be having a 'Hard Remain' where we just signed up to the euro and we're all speaking Esperanto," he told ITV's The Agenda program this week.
For more on Brexit follow Bloomberg on Twitter, Facebook and Instagram, and see our full coverage at Bloomberg.com
Before it's here, it's on the Bloomberg Terminal.
LEARN MORE