Top-Performing Commodity's Rally Defies Fund Investors Exit
By
As palladium price soared 24%, holdings of metal in ETFs fell

Car-sales gain boosts demand outlook for catalytic converters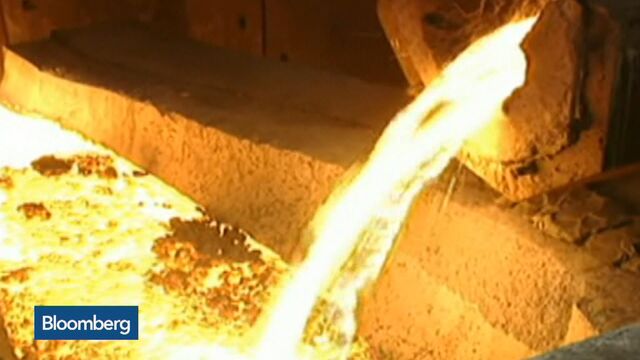 Palladium prices surged more than any commodity in November, capping their biggest monthly gain since 2008. So, why are holdings of the precious metal in exchange-traded funds dropping at the fastest pace in more than a year? Some analysts are scratching their heads.
"It's quite surprising to see investors selling at a time when prices are rising," said Bernard Dahdah, an analyst at Natixis SA in London. "This isn't a mystery that's easily explained."

Unlike gold or silver, a primary source of demand for palladium is from industry. Most is used in catalytic converters to reduce emissions. With signs of a rebound in global auto sales, the metal advanced 24 percent in November. The rally beat gains for copper and iron ore, commodities at the forefront of speculation that raw-material demand is accelerating in China.
At the same time, palladium holdings by exchange-traded funds as of Nov. 30 had tumbled 7.5 percent for the month to 58.2 metric tons, the lowest in four years, data compiled by Bloomberg show. That's unusual because ETF flows and prices have moved in the same direction for much of the last seven years. The exodus may be a sign the rally won't last.
Prices probably don't have much further to gain, according to Bart Melek, the head of commodity strategy at Toronto-Dominion Bank in Toronto. At the start of the year, Melek predicted palladium would reach $800. Joni Teves, a strategist at UBS Group AG in London, said next year's average may be $755, below the current price.
Palladium for immediate delivery headed for the first decline in five sessions on Thursday, sliding 2.2 percent to $753.43 an ounce as of 2:48 p.m. in New York.

ETF holdings of palladium posted their biggest monthly decline since October 2015 and are down 20 percent this year, data compiled by Bloomberg show. Two funds in South Africa, the biggest producer of the metal, accounted for almost two-thirds of the drop.
"It is very surprising that ETFs haven't followed the movement in price," said Tom Kendall, head of precious metals strategy at ICBC Standard Bank Plc in London. "Palladium has already gone further than anyone thought. It can only diverge from the other precious metals for so long."
Gold tumbled 8.1 percent in November, the worst monthly performance since June 2013, while silver slid 7.8 percent. The appeal of holding the precious metals, which don't pay dividends, has been eroded by gains in the dollar and bets that the Federal Reserve will raise interest rates.
Even with the large ETF sales, there are signs of tighter supply in the physical market. Spot prices became more expensive than forward rates this month for the first time in more than a year, a condition known as backwardation. On Nov. 15, the spread was the steepest since at least 2002.

That may be a sign that shortages are starting to bite, said Robin Bhar, head of metals research at Societe Generale SA. Global demand will probably exceed supply by 651,000 ounces this year, and the market will remain in a "significant" deficit in 2017, Johnson Matthey Plc, which makes one in three car autocatalysts, said Nov. 14.
U.S. auto sales were the highest in a year in October, while Chinese sales climbed for an eighth month. In Europe, where vehicles tend to rely on platinum, consumers are slowly shifting to models using more palladium, according Natixis. Base metals and iron ore rallied this month amid optimism that demand will increase in the U.S. and China, sparking a trading frenzy in the Asian country.
"Palladium is the most industrial of the precious metals, and the least exposed to investor whims," Bhar said by phone from London. "There have been real signs of a squeeze on the physical side."