AT&T's Aggressive Mexico Moves Bring Losses, Rival Slim Says
By and
America Movil chairman emeritus speaks in Bloomberg interview

Competition always makes America Movil better, Slim says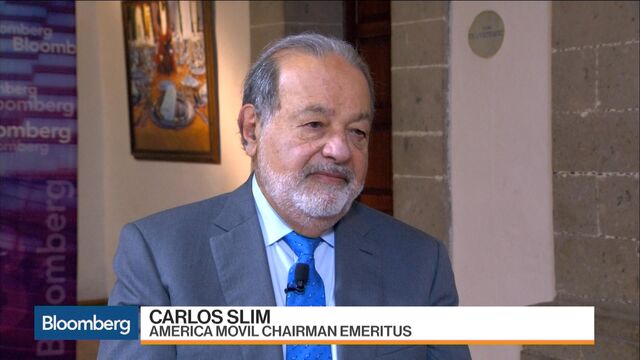 AT&T Inc.'s aggressive pricing strategies in Mexico are causing the company to lose "a lot" of money, said Carlos Slim, the billionaire who controls the phone giant's biggest rival.
"You can see it in their balance sheets," he said. AT&T's low-cost plans are taking market share from other competitors but not from Slim's America Movil SAB, which has responded with its own offers, the Mexican billionaire said. The price war among phone companies in Mexico can't go on forever, he said, although he's pleased it has benefited consumers.
Slim is right that AT&T operates at a loss in Mexico. Its operating loss widened last quarter to $148 million from $134 million a year earlier. In the country, Dallas-based AT&T offers a 6-gigabyte data, voice and text plan -- including full coverage in the U.S. -- for about $25 a month. The company offers a similar package in the U.S. for $80.
"While we're making great progress, it is worth bearing in mind that we're also challenging a competitor that still holds 66 percent of the marketplace," AT&T said in a statement. "We believe Mexico faces a historic opportunity to strengthen the regulatory measures and show that effective policies can promote investment, benefit citizens and establish sustained, effective competition."
AT&T was once an investor in America Movil, and the U.S. company's chief executive officer Randall Stephenson, has said he considers Slim a mentor. Slim said he doesn't consider AT&T's incursion into Mexico a betrayal by Stephenson.
"Competition always makes us better," Slim said. "They're looking out for their interests and we're looking out for ours."
America Movil does have a way to retaliate against AT&T in the U.S. The Mexican company's American unit, TracFone, is the biggest provider of prepaid service in the country, and could get more aggressive there. But Slim said his strategy for TracFone isn't changing in the short term, even as the industry changes. "We'll work on what we've been doing, which is making it profitable," he said.
Before it's here, it's on the Bloomberg Terminal.
LEARN MORE