Zimbabwe Seals Harare City Center on Protests Over Bond Notes
Godfrey Marawanyika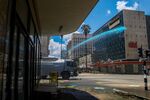 Zimbabwean police sealed off the city center of Harare and opened fire with water cannons as protests erupted in the capital over the government's introduction of bond notes.
Phone calls to police went unanswered when they were called for confirmation by the Bloomberg correspondent witnessing events.
The central bank started adding bond notes -- printed by the government and backed by dollars -- into the financial system on Tuesday in a bid to reduce a shortage of hard currency that has led to delays of several months in salary payments to civil servants, the military and some private company employees.
Before it's here, it's on the Bloomberg Terminal.
LEARN MORE