Your Evening Briefing
Here are today's top stories.
Bloomberg News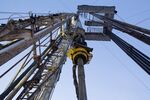 Want to receive this post in your inbox every afternoon? Sign up here.
Good afternoon! It's all about oil and energy today, with a side of creepy Russian internet.
OPEC will reduce production by 1.2 million barrels a day to 32.5 million a day, two delegates said Wednesday during a ministerial meeting in Vienna. The deal to curtail oil supply, which came after weeks of often tense negotiations, brought about its first cuts in eight years. Benchmark Brent crude surpassed $50 a barrel for the first time in a month.
America could become a global gas powerhouse in 2017. America depended on the world for energy for decades. Today, it's becoming a global supplier of oil and natural gas in its own right. Refurbished pipelines and terminals will come online next year to help unleash the U.S. shale gas boom into the world, but risks still loom.
Get ready to watch Netflix—without an internet connection. The world's largest online TV network is making some shows and movies available for download to watch offline. Netflix will roll out the feature on phones and tablets for all subscribers, but only for select shows like "The Crown" and "Orange is the New Black" at first.
Russia has its own internet, and it's creepy. For the past five years, Russia has been building walls around its web and packing it with tech oligarchs, startup cities, face-finding algorithms, hacker hunters, and, even, a few bears. The latest episode of Hello World takes a look inside this strange, strange world.
How to boost your Social Security check. While you can tap retirement benefits as early as 62, the federal government offers big financial incentives to wait. The rules are complicated, however, and choosing to delay raises some existential (and morbid) questions. Here's some guidance for those looking down the barrel at their golden years.
TSA PreCheck is stuck in its own security line. In a report earlier this month, the U.S. Travel Association said travelers would take two or three additional trips per year "if TSA hassles could be reduced" and repeated its prior call for a lower price or volume discounts instead of the $85 fee for PreCheck.
Confessions of an Instagram influencer. Businessweek writer Max Chafkin had a realization one day: He felt inferior. More specifically, he felt ~his Instagram presence~ was inferior. So he took a dive into the murky world of Instagram endorsement deals and went undercover for a month, attempting to turn his schlubby profile into that of a full-fledged influencer. This is his true Hollywood story.
Before it's here, it's on the Bloomberg Terminal.
LEARN MORE