World-Beater Status at Risk as India Rebuts Threat to Growth
By
Expansion seen slumping to 6.5% versus China's 6.7%: surveys

'All these statements are based without data': govt official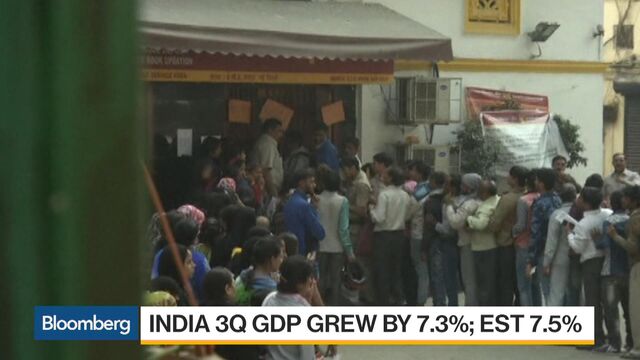 Prime Minister Narendra Modi's administration sought to refute concerns that the clampdown on cash would strip India of its status as the world's fastest-growing big economy.
Gross domestic product, which grew a slower-than-estimated 7.3 percent in July to September, will slump to 6.5 percent over the next quarter, according to the median estimate in a Bloomberg survey of 14 economists. That's weaker than the previous 7.8 percent projection and the 6.7 percent forecast for China.
"At the moment all these statements are based without data," TCA Anant, the government's chief statistician, told reporters in New Delhi on Wednesday. "Assumptions can lead people to all sorts of conclusions and I don't want to contest at that level. I would rather suggest you wait for the data."
A steep economic slowdown risks hurting foreign investment into India and voters' perceptions of Modi before key state elections next year. While supporters say his Nov. 8 move to abruptly invalidate 86 percent of currency in circulation will help curtail tax evasion and graft, critics say it will dent demand in an economy where almost all consumer payments are in cash.

"Attention has already turned to the impact of the government's demonetization measures, which could cause significant disruption in the current quarter and possibly beyond," Shilan Shah, Singapore-based India economist at Capital Economics Ltd., wrote in a report after the GDP data. The central bank will lower the policy rate to 6 percent from 6.25 percent at a Dec. 7 review to "cushion the blow," he said.
Read: Central Bank Fights Fires on All Fronts Amid India Cash Ban
July-September data showed:
Manufacturing growth slowed to 7.1 percent from 9.2 percent a year earlier and mining contracted 1.5 percent versus a 5 percent gain
While expansion in trade and similar services picked up to 7.1 percent from 6.7 percent, that in financial services slowed to 8.2 percent from 11.9 percent
Much of the growth was supported by government spending, which surged 15.2 percent from the previous year, and private consumption, which rose 7.6 percent
Worryingly, investment fell 5.6 percent, a continued run of disappointing data
Economists at Standard Chartered lowered their GDP growth forecast for the 2017 fiscal year to 6.8 percent from 7.7 percent, and to 7.2 percent from 7.8 percent for 2018. They cited the demonetization move, the likely implementation of a goods and services tax, and a more uncertain global environment after Donald Trump's U.S. election victory.
The government's ability to stimulate investment is also limited, as another set of data released Wednesday showed that the budget deficit hit 79.3 percent of the full-year target in the first seven months of the fiscal year, compared with 74 percent the previous year. The revenue shortfall, which is 92.6 percent of the full-year goal compared with 73 percent, "remains a source of concern," said Aditi Nayar, principal economist at ICRA Ltd.
A separate index, which showed a sharp improvement in infrastructure growth, was also skewed by surges in steel and refinery products, which may be temporarily hurt by the demonetization, she said.
A private gauge signaled a slowdown in India's manufacturing in November, the first economic indicator since Modi's decision. The Nikkei India Manufacturing Purchasing Managers' Index was at 52.3 in November, slipping from a 22-month high, a report showed on Thursday.
Fluid Situation
The rupee briefly erased gains in the offshore market after the GDP data, with the one-month non-deliverable forward contract falling to 68.74 a dollar from 68.65. The currency, stocks and sovereign bonds gained in the onshore market, which had shut before the release.
What could help Modi is his move to penalize tax evaders and impose penalties on unexplained income exposed by the cash clampdown, said Sujan Hajra, chief economist at Anand Rathi Securities Ltd. The government also estimates that as much as 5 trillion rupees could be left undeclared, which could be transferred to the government for social spending.
"While demonetisation will lead to slower growth, the voluntary disclosure of income could be expansionary," Hajra said. "So it is tough for the statistician to comment on what the impact will be from demonetization when the situation is so fluid."
— With assistance by Anirban Nag, Manish Modi, Cynthia Li, and Jodi Schneider
Before it's here, it's on the Bloomberg Terminal.
LEARN MORE