RBS Falls on BOE Stress Test Failure, Plan to Shrink Further
By
RBS says intends to cut costs and reduce risk-weighted assets

BOE says broader U.K. banking system is well capitalized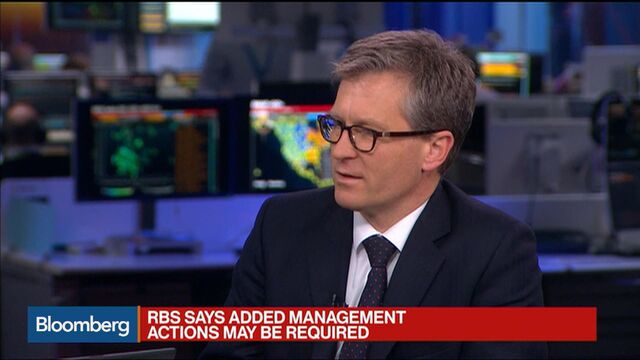 Royal Bank of Scotland Group Plc slumped after it failed multiple hurdles in the Bank of England's toughest-ever stress test, pushing Chief Executive Officer Ross McEwan to further shrink the taxpayer-owned lender.
Some "capital inadequacies" were revealed at two other banks, Barclays Plc and Standard Chartered Plc, though neither was required to submit a revised capital plan, the BOE's Prudential Regulation Authority said on Wednesday. RBS has agreed to deepen cost cuts and sell additional assets to improve its resilience, the bank said in a separate statement.
Eight years after its 45.5 billion-pound ($56.6 billion) bailout from taxpayers, the Edinburgh-based lender still has work to do to bolster its financial strength. The test poses the latest setback in McEwan's efforts to return the lender to profitability and full private ownership. The CEO has said he'll unveil plans to further shrink the bank and reduce costs alongside full-year results next year.
The stock declined as much as 5 percent in London trading and was down 2.5 percent at 192 pence at 12:18 p.m. That brings its drop this year to more than a third, the worst performance among major U.K. banks.
"They have fallen short of the hurdles, and they have some more work to do," Bank of England Deputy Governor Sam Woods said at a press conference in London. RBS's new capital plan is "fully credible, the PRA board looked at that carefully and reached that conclusion as well. We'll hold them to delivery."
The weaknesses at RBS stem from misconduct costs, potentially running into billions of dollars, from a U.S. probe into mortgage-backed securities, surging loan impairments and losses on the sale of its Williams & Glyn business. Details of the estimates used in the test weren't disclosed.
The test also covered HSBC Holdings Plc, Lloyds Banking Group Plc, Banco Santander SA's British arm and Nationwide Building Society, which all passed the annual health check. The hurdle rate required all the banks to retain capital equivalent to 4.5 percent of their assets weighted by risk, plus Pillar 2A -- a requirement that varies depending on the specific risks for each bank -- in the stressed scenario. Some banks, like RBS, were also asked to meet a systemic reference point, a higher threshold reflecting their significance to the global financial system.
RBS's common equity Tier 1 capital ratio, a key measure of financial strength, plunged by 10 percentage points in the stressed scenario to 5.5 percent before management actions to conserve financial buffers. After such interventions and triggering bonds designed to convert into equity in a crisis, the bank still fell short of its systemic reference point.
'Dashing Hopes'
McEwan started raising the prospect of reinstating a dividend almost two years ago, as he rebuilt financial buffers from the sale of RBS's Citizens Financial Group Inc. U.S. banking business. But the BOE test "dashes any hopes for excess capital returns," analysts at Jefferies International Ltd. led by Joseph Dickerson wrote in a note to clients.
The CEO has previously warned the bank will need to pass the BOE health check, settle the bulk of its litigation issues, return to sustainable profitability and dispose of Williams & Glyn before he can pay a dividend. While some analysts had previously anticipated as much as 10 billion pounds could be returned, that amount rapidly eroded in the tests. Each percentage point in RBS's CET1 ratio is equivalent to about 750 million pounds of capital, meaning the bank was almost 2 billion pounds short of the SRP at its low point.
The BOE's Financial Policy Committee judged that no system-wide macroprudential action on bank capital was needed in response to the test. The FPC maintained the U.K. countercyclical capital buffer at zero percent and expects to keep it at that level until at least June 2017 "absent any material change in the outlook."
Severe Test
This year's test featured a sharp economic slide in Hong Kong and China, a 1.9 percent contraction in the global economy, and exchange-rate volatility as emerging-market currencies depreciate against the U.S. dollar. It also assumed a 31 percent crash in British house prices during the five-year period, while U.K. commercial real estate sank 42 percent.
The adverse scenario was drawn up in March and doesn't model the impact of the Brexit negotiations or a withdrawal from the European Union. The combination of stresses in the test lead to 44 billion-pounds of losses for the nation's biggest lenders over the first two years, while the banks cut expected dividends by about 18.4 billion pounds to handle the envisaged crisis over the same period.
Barclays failed to meet its systemic reference point without triggering additional Tier 1 securities, bonds that convert to equity in times of financial stress, meaning it failed the higher threshold of the BOE test. The London-based lender wasn't asked to resubmit its capital plan because it's already taking actions, including plans to sell its Africa business, while Standard Chartered has already sold bonds this year to bolster its capital position.
— With assistance by Silla Brush
Before it's here, it's on the Bloomberg Terminal.
LEARN MORE