business
Park's Allies Suggest She Resign Korean Presidency in April
By
Saenuri faction gives Park until Dec. 9 to propose plan

Opposition parties still pushing to impeach the president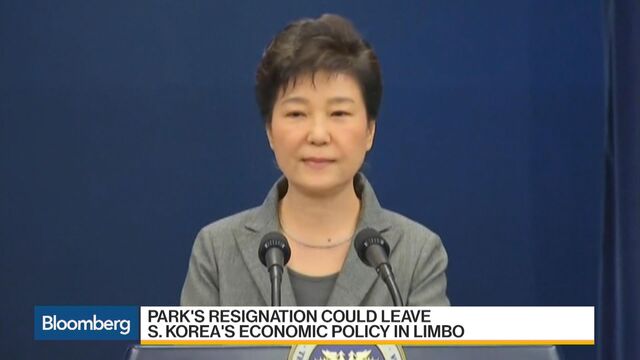 Embattled South Korean President Park Geun-hye may have bought some time in office after offering to resign on Tuesday over an influence-peddling scandal.
A faction of her ruling Saenuri Party that had previously supported her impeachment said on Wednesday that it would accept her resignation at the end of April, and gave her nine days to make a proposal. The group of about 40 lawmakers holds the balance of power in an impeachment vote, which requires support from two-thirds of parliament.
QuickTake Q&A: Influence-Peddling Scandal Rocks South Korea
"It's important for Park to clearly propose a detailed timetable for her resignation to show her sincerity," Hwang Young-cheul, a spokesman for the Saenuri faction, said after a meeting with them on Wednesday. "End-April will be the most appropriate time."
The move may give Park's party more time to prepare for an election that would be triggered in 60 days if she resigned or was impeached. Hundreds of thousands of protesters have called for her to leave office over accusations that she allowed her friend Choi Soon-sil to pressure some of South Korea's biggest companies -- including Samsung Electronics Co. and Hyundai Motor Co. -- to donate tens of millions of dollars to her foundations.
Hwang also laid out some other conditions for Park: She should appoint a prime minister recommended by parliament to set up a coalition government, and give that person her power. If Park doesn't spell out a plan for resigning, he said, his faction would again support an impeachment motion on Dec. 9 -- the last day of the current parliamentary session.
The scandal has been a drag on South Korea's stocks and currency as investors weigh concerns that a void in political leadership will hamper efforts to jump-start slowing growth. Both the won and the Kospi index of stocks have fallen more than 3 percent since the allegations against Park emerged on Oct. 24.
Even before protests against her gained momentum, major family-backed conglomerates known as chaebol were suffering from embarrassing setbacks. Hanjin Shipping Co. went into receivership, Samsung killed off its flagship Note 7 smartphone and retail giant Lotte Group postponed key business initiatives as family members face corruption charges.
In a televised address in Seoul on Tuesday, Park apologized for the third time since the scandal broke and asked parliament to decide the direction of a "stable" power transition. Park maintained she had not sought personal gain, blaming the furor on associates instead.
Read more: Park's resignation could leave Korea's economic policy in limbo
"I will entrust the parliament with the issue of whether I should resign or remain in office," Park said. "When the opposition and ruling party lawmakers come up with a plan to minimize confusion and the vacuum in state affairs and lead to stable transfer of the government, I will resign from my post in accordance with the schedule and legal procedures of that plan."
Opposition parties remained skeptical and continued to push for impeachment. Park Jie-won, floor leader for the opposition People's Party, said Park would "never" propose a plan to step down by April.
"Koreans don't want to start the next year with Park," Choo Mi-ae, head of the Democratic Party of Korea, said before a meeting with two other opposition leaders Wednesday. "There's no other way for the parliament to suspend or shorten Park's term than by impeaching her, and we're already in the process."
Choo said Saenuri members must "have some conscience" and act in accordance with the people's will. "You shouldn't be shaken," she said.
Read more: An explanation of the scandal
The parties, which together hold 159 seats, have been looking to submit a motion as soon as Dec. 2 and secure backing from two-thirds of the 300-member National Assembly. Park's single five-year term is due to expire in February 2018. The prime minister would take over as interim leader should she resign.
Two prominent Saenuri members, including a provincial governor, defected last week and called on others to follow suit. Former party chief Kim Moo-sung has led a campaign to corral votes in favor of impeachment and pressure the incumbent chairman aligned with Park to resign.
A group of civic associations said they planned a rally near the presidential complex on Wednesday to protest her speech. Protesters on Saturday marched to within 200 meters (660 feet) of the Blue House executive offices before being blocked by riot police.
— With assistance by Heesu Lee, Sam Kim, Shinhye Kang, and Seyoon Kim
(
Updates with market reaction in 6th paragraph.
)
Before it's here, it's on the Bloomberg Terminal.
LEARN MORE