OPEC Deal Is Bad News for U.S. Gas and Good News for LNG
By
Oil drilling threatens to flood natural gas market with supply

LNG prices may rally since contracts are linked to oil prices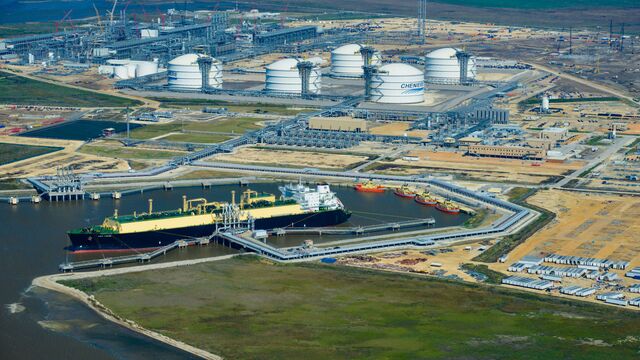 OPEC's decision to shrink oil production is both a blessing and a curse for natural gas markets.
It's bad news for the U.S. gas bulls enjoying a rally that has propelled prices to the highest in two years. Crude explorers have more incentive to drill with oil futures surging on the promised cuts by the Organization of Petroleum Exporting Countries. And with every barrel of oil they pull out of the ground, they'll inevitably pull out gas, a byproduct that threatens to add to a U.S. supply glut that's already hit a record.
"These guys will drill more, and you are going to get that extra gas at an inconvenient time," said Jason Schenker, president of Prestige Economics LLC in Austin, Texas. "It's bearish for U.S. gas for the next three- to nine-month window."
While the potential flood of so-called associated gas threatens to derail the rally in U.S. gas prices, it also stands to be a boon for the liquefied natural gas market. A large share of LNG contracts are linked to benchmark oil futures. And a drop in U.S. gas prices will allow the nation's LNG exporters to offer supplies to the world at a deeper discount.

In fact, Golar LNG Ltd., which owns floating LNG terminals, rallied as much as 16 percent. And while the company did report better-than-projected earnings on Wednesday, its rally "mostly has to do with oil prices," said Jonathan Chappell, an analyst with Evercore ISI.
Cheniere Energy Inc., which became the first exporter of U.S. shale gas by tanker in February, jumped as much as 8.2 percent on Wednesday, reaching a six-week high.
For a look at some of the biggest beneficiaries of OPEC's decision, click here.
"Any increased oil production in the U.S. could limit further gains in natural gas prices, as it would likely increase oil-associated natural gas production, which accounts for about 20 percent of domestic supply," Michael Roomberg, who helps manage $7.5 billion at Miller Howard Investments Inc. in Woodstock, New York, said by e-mail Wednesday.
Schenker said the volumes of associated gas that may hit the market when oil explorers put rigs back to work may send gas prices back to the mid-$2 range.
— With assistance by Jim Polson
Quotes from this Article
Before it's here, it's on the Bloomberg Terminal.
LEARN MORE