business
Merkel Coalition Targets Deutsche Bank's Ex-CEO in Bonus Feud
By
Ackermann raises election-year hackles among Berlin lawmakers

Bank's pre-crisis business model under fire as U.S. fine looms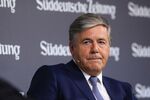 German Chancellor Angela Merkel's coalition is taking aim at former Deutsche Bank AG Chief Executive Officer Josef Ackermann in a dispute over bonuses, distancing her government from the bank's legacy in an election year.
As the country's biggest bank faces a U.S. government probe tied to residential mortgage-backed securities, the criticism in Berlin is a sign of encouragement for changes at Deutsche Bank being pursued by CEO John Cryan, including job cuts and a shift toward core banking tasks. German policy makers associate the old business model and its perceived excesses with Ackermann, 68, who stepped down in 2012 and this month questioned whether executives should forfeit bonuses.

"It isn't a happy situation when someone causes damage to a bank and then wants to be rewarded on top of that," Ralph Brinkhaus, a deputy caucus head of Merkel's Christian Democrat-led bloc in parliament, said in an interview. Bonuses "are performance-based compensation" and "should be clawed back if someone performed badly," said Carsten Schneider, a finance lawmaker for the Social Democrats, Merkel's junior coalition partner.
Ackermann's comments ignited a spat with German Finance Minister Wolfgang Schaeuble, who was quoted by German newswire Deutsche Presse-Agentur as criticizing executives who are reluctant to forgo bonuses. When that prompted a rebuke by Ackermann for turning the matter into a public dispute, Schaeuble responded he could "live with" it.
As Merkel seeks a fourth term in next year's German election, her government's history of clashes with Deutsche Bank during her and Schaeuble's 11 years in power still resonates. Government officials have said that Germany would welcome a smaller Deutsche Bank as a way to reduce the lender's capital requirements amid misconduct fines and stricter capital rules.
For more on banks' legal risks in the U.S., click here.
"The government wants to show that it isn't on board with Ackermann's business model," said Hans-Peter Burghof, professor of finance at Hohenheim University near Stuttgart. "Schaeuble's criticism signals that the German government is keeping its distance from the Ackermann era."
Ackermann, who was CEO between 2002 and 2012, helped build Deutsche Bank into a global investment bank, steering the company through the 2008 credit crunch and Europe's subsequent sovereign-debt crisis without taking direct state aid.
In his comments to a conference in Berlin, he said it would be hard to forfeit bonuses because it would place the bank's more junior executives at a disadvantage. A spokesman for Ackermann declined to comment on Schaeuble's riposte.
Culture Shift
Cryan, who became CEO in July 2015, is facing a $14 billion request by the U.S. Justice Department to settle the securities probe. Deutsche Bank, whose shares have declined by 36 percent this year, has said it expects to settle for significantly less.
Cryan says previous management teams made the bank too complex and inefficient by putting short-term earnings ahead of Deutsche Bank's long-term interests. That stance is broadly backed by Merkel's government, which says Germany needs a globally positioned lender. While the government won't comment on the U.S. case, the latest criticism of the bank's past practices may also be a German attempt to send a signal to Washington, Burghof said.
"German policy makers are trying to show that they view a shift of Deutsche Bank's corporate culture as desirable," he said.
— With assistance by Steven Arons, and Nicholas Comfort
Before it's here, it's on the Bloomberg Terminal.
LEARN MORE