Korea Household Debt Evokes 1997 Crisis, Says Ex-BOK Member
By and
Nearly a third of debt held by distressed households

BOK faces dilemma with reasons to raise and cut rates, he says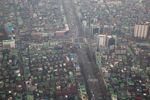 The most vulnerable holders of more than $1 trillion in household debt could spark a financial crisis in South Korea that rivals the one seen during the Asian crisis two decades earlier, according to a former Bank of Korea monetary policy board member.
"It evokes memories of the late 1990s when Korea was bailed out by the International Monetary Fund," said Choi Woon Youl, now a lawmaker with the main opposition Democratic Party of Korea, during an interview with Bloomberg on Nov. 28. "If it was corporate debt that drove the crisis 20 years ago, it is household debt that would take the lead this time."
Adding to the risk is a political crisis in Asia's fourth-largest economy, Choi said.
President Park Geun-hye said on Tuesday that she is willing to step down over an influence-peddling scandal, a move that may have bought her time in the face of an impeachment effort by opposition lawmakers. This will only prolong uncertainty about her future and the economy, Choi said on Nov. 30.
Park dismissed her prime minister and finance minister this month, and the process of approving their replacements is stalled. Opposition leaders are working to impeach Park in the meantime.
While taking steps to rein in its growth, South Korean policy makers have said the record 1,295.8 trillion won ($1.17 trillion) in household debt doesn't yet pose a threat to financial stability, given low delinquency ratios.
Yet a BOK report released in June showed that nearly a third of that debt is held by distressed households -- those who have negative net financial assets and spend at least 40 percent of their disposable income on debt service.
"That is large enough to lead to a collapse of one or two of the biggest banks, and we learned from the past that a problem at one bank quickly spreads to others," said Choi, who cautioned that a crisis could come as early as next year, without saying how likely he thought one was.
Dilemma on Rates
Slowing growth poses another problem for policy makers, but because of the debt the BOK is likely to stand pat on interest rates in coming months, Choi said.
The BOK cut the benchmark rate to a record-low 1.25 percent in June.
Any rate cut now would risk worsening the debt problem, Choi said. It would actually be ideal if the central bank could raise rates to prevent capital outflows following an expected hike by the Federal Reserve next month, he said.
"So many reasons to raise and cut the rates at the same time," Choi said.
The Organization for Economic Cooperation and Development cut its 2017 growth projection for Korea this week to 2.6 percent from 3 percent.
More Hanjin than Daewoo
Choi questioned the wisdom of the South Korean government's support for some of the growing number of distressed companies, particularly in the shipbuilding industry.
Citing the "pouring" of more than 4 trillion won into Daewoo Shipbuilding & Marine Engineering Co., Choi warned that shipbuilders will face a shrinking market in coming years, and a failure to adapt by downsizing could lead to their collapse.
In that regard, Hanjin Shipping Co.'s failure at least offered a lesson to the market that the government can't bail out every company considered too big to fail, he said.
"Having said that, we will likely see more distressed companies filing for bankruptcy next year."
— With assistance by Whanwoong Choi
Before it's here, it's on the Bloomberg Terminal.
LEARN MORE