Kinder Morgan Likely Faces Court Challenge After Canada Approval
By
Protests in Vancouver Tuesday after prime minister's decision

Final decisions from province and Kinder Morgan still remain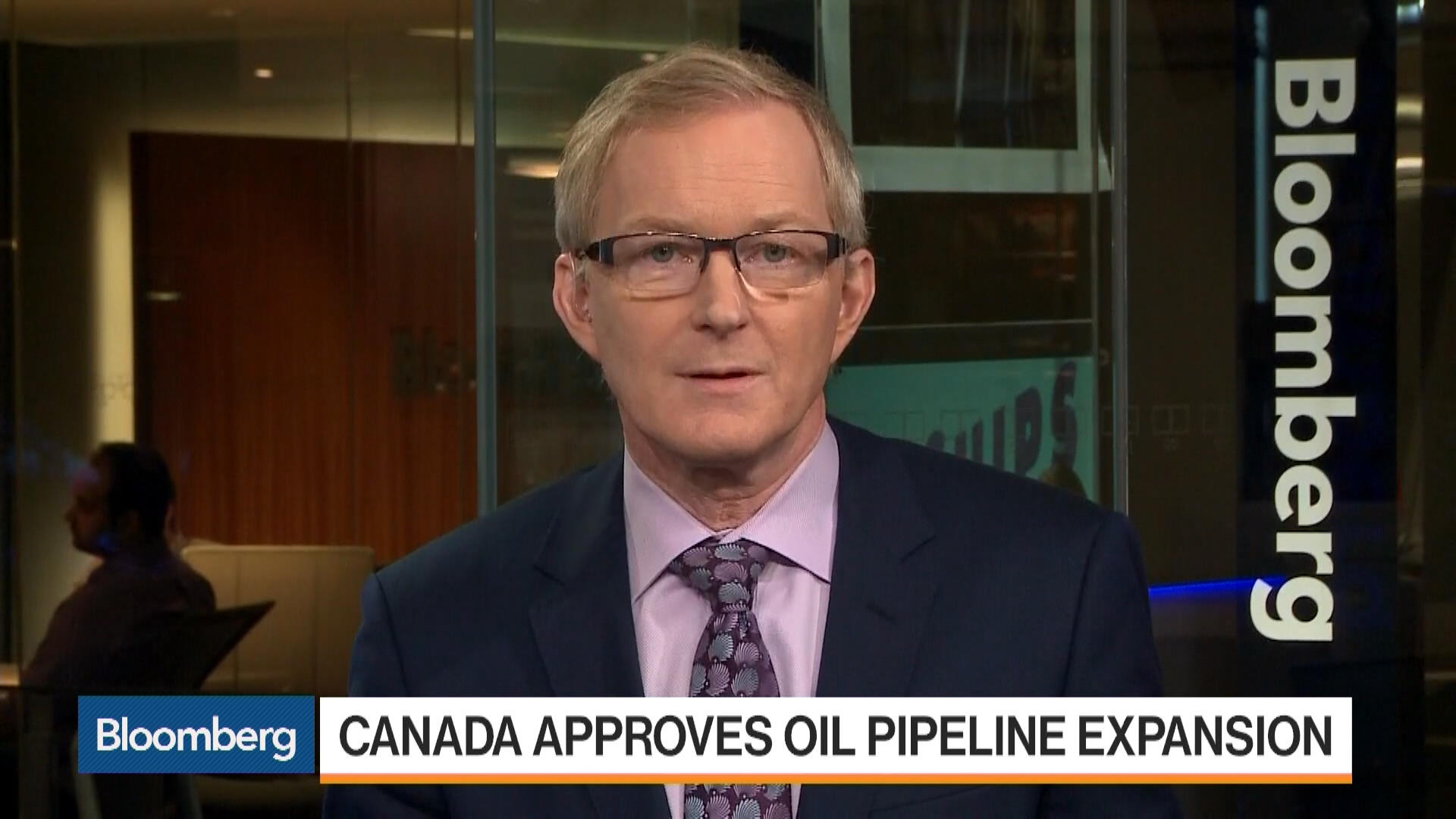 Kinder Morgan Inc.'s Trans Mountain oil pipeline, now approved by Canadian Prime Minister Justin Trudeau, faces further barriers before it can be built as the country sorts out the rights and roles of indigenous people in major energy projects.
Trudeau announced Trans Mountain's approval Tuesday along with a go-ahead for Enbridge Inc.'s Line 3 expansion, while rejecting Enbridge's Northern Gateway pipeline due to environmental concerns. The approval of the Trans Mountain expansion, running from Alberta to a terminal near Vancouver, is set to be the biggest flash point.
Protesters gathered in Vancouver Tuesday evening, condemning the announcement. The Trans Mountain project is opposed by some indigenous communities, Vancouver's mayor, some of Trudeau's own lawmakers and environmental activists. Aside from a looming provincial government ruling and the company's final investment decision, court challenges are likely -- Northern Gateway was approved by government in 2014 only to have its permits struck down over the lack of consultations with indigenous communities.
"What is clear is there will be legal challenges," said Risa Schwartz, a research fellow specializing in international law at the Waterloo, Ontario-based Centre for International Governance Innovation. The government has tried to head off the same fate as Northern Gateway by adding additional indigenous consultation, which had been the Enbridge project's legal Achilles' heel.
"The court in Northern Gateway was very clear in what the flaws were," she said. "That's helpful in the government trying to correct them, but it's also helpful for lawyers opposing Kinder Morgan."
Pipeline Conditions
The Kinder Morgan Trans Mountain expansion is a C$6.8 billion, 1,150-kilometer (715-mile) project that would nearly triple the capacity of an existing pipeline between Alberta and Vancouver to 890,000 barrels per day.
The company called the approval a "defining moment" and said it will now seek all necessary permits, review cost estimates and make its final investment decision. It expects construction to begin in September of 2017 and for the pipeline to enter service in late 2019. "We are excited to move forward and get this project built, for the benefit of our customers, communities and all Canadians," Kinder Morgan Canada President Ian Anderson said in a statement.
Trans Mountain's approval includes 157 conditions, cited by Trudeau when pressed on what he will do to ensure the project is actually built. So long as they're met, "this project will get built because it's in the national interest of Canadians, because we need to get our resources to market in safe, responsible ways," Trudeau said Tuesday.
Analysts say delays are possible as Kinder Morgan and Enbridge work to satisfy the conditions placed on their approvals. Doing so "will take some time and may also be met with a variety of legal challenges," Andrew Kuske, a Toronto-based analyst with Credit Suisse, said in a research note. "In light of recent episodes of pipeline activism, the timeline for flowing hydrocarbons may continue to drift."
'Not Happening'
Vancouver Mayor Gregor Robertson said he was "profoundly disappointed" in the project's approval. "Vancouver will continue to raise concerns about Kinder Morgan's massive expansion," he said, adding Trudeau can expect opposition from thousands of residents and local indigenous leaders who "told the federal governing a resounding 'no' to this project."
The project is also likely to face challenges from indigenous communities along or near its route, at a time when Canadian courts are sorting out government obligations on indigenous consent and consultation -- and as the Trudeau government has sent the legal community mixed messages by wavering on adopting the United Nations Declaration on the Rights of Indigenous Peoples.
"It's not happening. We'll do what it takes to stop it, and we've said that all along," said Rueben George, a member of the Vancouver-area Tsleil-Waututh indigenous community. There's a "strong possibility" the community will file a legal challenge against Trans Mountain, he said. "We're already willing and able to go to court, and we're confident."
'Substantive' Consultation
Canadian Justice Minister Jody Wilson-Raybould -- a Vancouver-area lawmaker and herself a former indigenous regional chief -- cited the "substantive nature of the consultations" when asked if Trans Mountain could avoid the same legal challenge that ultimately derailed Northern Gateway.
"We engaged with many indigenous people," said Wilson-Raybould, including an "enormous amount of work that went into the consultations with indigenous peoples with respect to the Kinder Morgan project." Those consultations produced "significant accommodation agreements" that will see indigenous people take part in committees ensuring Kinder Morgan meets its approval conditions, she added.
Rona Ambrose, leader of the opposition Conservative Party, criticized Trudeau for essentially picking Trans Mountain over Northern Gateway, which her party approved while in government. "Justin Trudeau approved the one project he knows will never actually get built," she said. "The prime minister should have left all options on the table."
Provincial Decision
British Columbia Premier Christy Clark has not taken a position on Kinder Morgan's project, instead laying out five conditions for approval of any new oil pipeline through her province. She has not yet said if Trudeau's series of recent environmental measures will satisfy the five.
"We will work to ensure each of our conditions are met," British Columbia Environment Minister Mary Polak said in a statement. The province on Tuesday also pledged to continue its own environmental assessment, to be completed "soon."
— With assistance by Scott Deveau
Before it's here, it's on the Bloomberg Terminal.
LEARN MORE