Emerging Markets Show Rebound Signs as November Losses Trimmed
by
Stocks extend recovery amid biggest monthly drop since January

Currencies in oil-exporting nations strengthen on OPEC move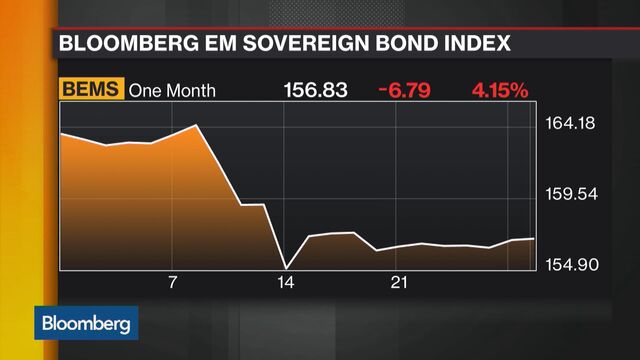 The second-worst month of the year for emerging markets ended with stocks signaling a rebound from losses spurred by Donald Trump's U.S. election victory and currencies of oil exporters trimming November declines. Dollar-denominated bonds of developing nations headed for their biggest drop since the so-called taper tantrum of 2013.
The MSCI Emerging Markets Index rose for the third time in four days, building on last week's gain. Colombia's peso and Russia's ruble advanced as OPEC ministers reached a deal to cut output. Investors lowered the risk premium they demand to own developing-nation bonds for the first time in five days.
The turnaround in emerging-market assets comes after Trump's election as the next U.S. president sparked a rout in global markets on expectations his spending policies would spur inflation and more frequent U.S. interest-rate increases. Some investors are now betting that the pessimism may have been overdone and the Fed's next rate move has already been factored into asset prices.
"The worst of the selloff is over," said Julian Mayo, who helps oversee $2 billion as co-chief investment officer at Charlemagne Capital Ltd. in London. "People are now reassessing what Trump's presidency could really mean. They are taking the view that the pragmatic businessman in Trump would be a guide to what happens in the next four years and not the one who spoke in dogmatic rhetoric during the campaign."
Stocks
The MSCI developing-nation equity gauge rose 0.5 percent to 862.83. The index closed above its 200-day moving average for a seventh successive day, suggesting that it is deriving technical support from that level. The benchmark declined 4.7 percent in November, the worst monthly decline since January's 6.5 percent drop.
Currencies
The MSCI Emerging Markets Currency Index increased 0.1 percent, reducing this month's decline to 2.6 percent. That's second only to its 3 percent decline in May, when hawkish statements from Fed officials halted a rally. Exchange rates in Turkey, where the central bank's ability to fight inflation is impaired by political pressure for lower interest rates, and Mexico, which stands to lose if Trump follows up on his pledge to abandon a trade pact, weakened the most in November.
Bonds
A Bloomberg gauge of emerging-market Eurobonds, comprising sovereign and corporate securities, posted a 3.3 percent retreat in November. That's the worst performance since June 2013 after Ben Bernanke's indication the U.S. central bank was getting ready to reduce its monthly bond purchases. A measure of local-currency bonds dropped 4.5 percent for the month, the most since September 2011.

Oil Deal
Brent crude surged 8.8 percent to $50.47 a barrel as OPEC approved the first supply cuts in eight years in an effort to ease a record global glut. That helped the Colombian peso and the Russian ruble each strengthen at least 1.5 percent, the best showing among 24 emerging-market currencies.
Temer's Victory
Brazilian stocks rallied 1.5 percent after President Michel Temer's plan to pull the country out of its worth recession in more than a century got a boost. Senators on late Tuesday approved a cap on public spending in real terms for as long as 20 years.
Valuations
Developing-nation stock valuations may soon become attractive to some investors as a downtrend that started in September is taking the price-earnings ratio of the MSCI index closer to its three-year average. The gauge trades at 12 times the projected earnings of its members, a 25 percent discount to the MSCI World Index of developed-market stocks.
Movers
Egypt's EGX 30 Index advanced 2.6 percent to extend its monthly gain to 37 percent. Stocks received a boost at the start of November when authorities freed the pound in a bid to attract foreign investors and reduce a dollar squeeze.
Saudi Arabia's Tadawul All Share Index climbed 1.5 percent, cementing its position as the world's best-performing equity benchmark in dollar terms in November (not including Venezuela where stock gains are distorted because of a currency squeeze).
Poland's benchmark WIG20 Index rose 1 percent, while the zloty and sovereign bonds fell as data showed zero year-on-year change in the country's consumer-price index last month, matching the median of 25 estimates in a Bloomberg survey
The Shanghai Composite Index fell 1 percent, the most since Sept. 26, as a technical indicator suggested the market is overheating
India's rupee and Mexico's peso each gained at least 0.2 percent
South Africa's rand slid 1.3 percent. The world's most volatile currency was the worst performer in emerging markets Wednesday
The premium investors demand to own developing-nation sovereign bonds rather than U.S. Treasuries narrowed six basis points to 358, according to JPMorgan Chase & Co. indexes.
Outlook for 2017
"Emerging markets should do reasonably well next year," said Mayo. "The asset class is still under-owned as most people are positioned negatively or completely out of it. Valuations are looking reasonable and earnings growth is slowly beginning to recover."
Before it's here, it's on the Bloomberg Terminal.
LEARN MORE