Deutsche Telekom Wants to Sell You an Anti-Drone Safety Shield
By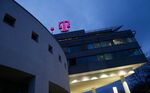 Deutsche Telekom AG will start selling products designed to protect companies and authorities from drones linked to spying, smuggling or vandalism as the German carrier turns to security products and services to unlock fresh revenue.
The systems feature tools like video cameras, frequency scanners and microphones and have software that can distinguish drones from birds or helicopters. Customers will need a permit to add electronic jammers that can disrupt flight, Deutsche Telekom said in an e-mailed statement Wednesday. 
The Bonn-based carrier is setting up a business unit with about 1,000 employees to develop and sell cyber security products, part of its bid to offset waning traditional phone-business sales. That may put the company in more direct competition with traditional security services and software companies such as Symantec Corp., International Business Machines Corp. and Cisco Systems Inc.
Deutsche Telekom is cooperating with Kassel-based Dedrone GmbH, which developed the drone tracking product. The drone-shield solutions go on sale from Dec. 1.
While drones have a large recreational fan base and are used in industries from filmmaking to agriculture, they're small and relatively silent, making them an obvious tool for criminals. President Barack Obama earlier this year urged world leaders to consider the nightmare scenario of terrorists flying drones to spread highly radioactive material over a civilian area.
Before it's here, it's on the Bloomberg Terminal.
LEARN MORE