Deutsche Bank Makes a Big, Bullish Call on Goldman Sachs
Changes under the Trump administration play to Goldman's strengths, say the analysts.
By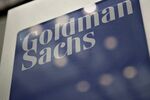 Another piece of good news for Goldman Sachs Group Inc.
(No, not that one.)
In a note to clients on Tuesday, a Deutsche Bank AG team led by analyst Matt O'Connor hiked 2017's earnings-per-share estimates and price targets across the 17 U.S. financial institutions it covers, and upgraded Goldman to 'buy' from 'hold,' making Steven Mnuchin's former employer one of its top bank picks. 
"Goldman Sachs seems well positioned for a stronger macro environment given revenue upside, good cost control and a valuation below peers (despite similar/higher current and expected returns)," O'Connor writes. "A stronger economy should benefit many capital market businesses — including advisory, equity capital markets, and both fixed and equity trading (all areas of strength at GS)."
The analyst's 12-month price target for the bank was hiked to $255 from $180. It was trading a few cents over $213 this morning.
The steepening of the yield curve, as well as the potential for deregulation, stronger economic growth, and lower taxes under President-elect Donald Trump is the impetus for Deutsche Bank's buoyant outlook for the banks. This more optimistic view on the sector should come as no surprise, as it largely reflects the gains realized in their share prices since the election.

Nonetheless the team still sees substantial upside beyond present levels, and gave above-consensus estimates for profit growth over the next two years.
"We sense that leverage to higher rates is mostly reflected in stock prices, but that higher lending and fee volumes from a stronger economy may not be," writes O'Connor's team of banks at large, forecasting earnings-per-share growth of 21 and 12 percent in 2017 for the median large and regional bank in its coverage universe, respectively.
Just prior to the election, an advertisement from the Trump campaign included a clip of Goldman Sachs Chairman and CEO Lloyd Blankfein following commentary from real-estate mogul flensing the "global power structure that is responsible for the economic decisions that have robbed our working class, stripped our country of its wealth and put that money into the pockets of a handful of large corporations and political entities."
But in an ironic twist, on the same day a former partner of the bank accepts a position that will mean the U.S. currency bears his signature, analysts at the 'Bank of Trump' have highlighted Goldman as particularly well-positioned to perform well under the new regime. And all this comes after the market reaction to Trump's surprising victory has already made Goldman executives millions of dollars.
Separately, the bank's Chief U.S. Equity Strategist David Bianco said he's now "more confident" the S&P 500 index will hit 2,500 in 2018 and that there's a better chance this economic expansion lasts a decade following the outcome of the U.S. elections.
Before it's here, it's on the Bloomberg Terminal.
LEARN MORE