Argentina's Economy Shows No Signs of Exiting Recession
by
Industrial production shrank 8% in Oct., construction 19%

President Macri has promised a recovery in the fourth quarter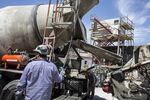 The economic recovery Argentina's President Mauricio Macri promised isn't materializing on schedule.
Industrial production contracted 8 percent in October from a year earlier, while construction shrank 19 percent, the statistics agency said on Wednesday. Both indicators, which account for about 20 percent of the economy, worsened from September readings.
"We haven't seen the recovery we were expecting since September," said Orlando Ferreres, director of consulting firm Orlando Ferreres & Asociados. "There's been several u-turns that have caused a lack of confidence and on top of that real wages have fallen 5 percent."
Macri told Argentines that the economy would start to recover by the fourth quarter, later than his initial pledge, after some of the steps he took to make the economy more competitive ended up delaying a rebound. The latest statistics suggest the year-long recession still has a way to go.
The economy shrank 2.1 percent in the second quarter from the previous quarter, its third consecutive quarterly contraction.
Ferreres said he still expects the economy to rebound, with the signs of growth in December and a recovery by March or April.
Before it's here, it's on the Bloomberg Terminal.
LEARN MORE