A Reckoning at Wharton, Trump's Alma Mater
The business school's future CEOs are afraid. Or thrilled. Or both.
By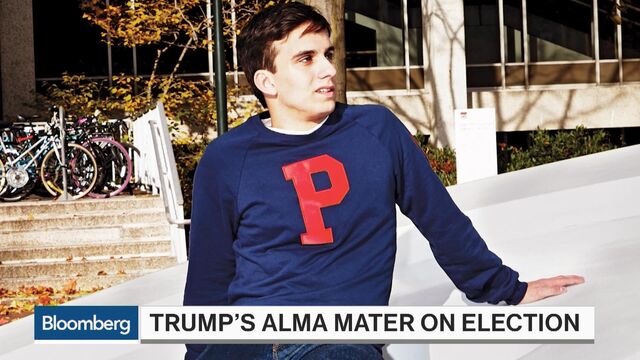 On the campus of the University of Pennsylvania, one week after the election of Donald Trump, senior Luis De Castro sat on a bench, thinking about his first vote for president. A naturalized U.S. citizen originally from São Paulo, De Castro was wearing a shirt he made himself, with "Make America Great Again" scrawled in red permanent marker. A couple of yards away from us was a large sculpture of a broken button. The artwork, a popular meeting place for students, had been transformed: Through two holes, someone had attached a massive makeshift safety pin, a symbol of support for minorities who've suffered abuse since Trump's win. At Penn, several black freshmen had received racist messages on a group texting app, and the entire campus was on edge. Colleges everywhere are reeling after the election, but here there is a special resonance—President-elect Trump is a member of the Wharton School's class of 1968.
As Penn's business school, one of the most prestigious in the country, Wharton has long had a certain cultural tension: It attracts those who identify as capitalists as teenagers, while being situated on a more or less liberal Ivy League campus. After Election Day, hundreds here participated in a Walk of Solidarity, and one residence hall brought in puppies to console distraught students. But De Castro is among a right-leaning Wharton set that is savoring victory—to a degree.

He looked down at his T-shirt. "On the walk here, I was more scared to walk down campus than I've ever been at any other point," he said. "It's dumb to say that. I'm just wearing a shirt. But that's what the vibe's been." In the days after the election, one of De Castro's professors postponed an exam, and others replaced lectures with discussions. De Castro found it ironic that a campus dedicated to tolerance was hostile to his beliefs, which he began to develop after emigrating from Brazil to South Carolina. He called himself a "white elephant" at Wharton: a social conservative and a fiscal liberal. "I've always felt more comfortable in South Carolina being Latino than I've felt here being conservative," De Castro said.
Penn's politics have changed since Trump graduated from Wharton's undergraduate program. He transferred in after two years at Fordham University in New York, and during his presidential campaign, he touted his degree as proof that he's "like, a really smart person." The Wharton community rallied to disavow the connection, with more than 4,000 current and former students, faculty, and friends signing an open letter to Trump that rejected "the use of your education at Wharton as a platform for promoting prejudice and intolerance."

Few people have followed the issues affecting minority students on Penn's campus more closely than Wharton junior Elizabeth Winston, who covers the diversity beat for the Daily Pennsylvanian, the student newspaper. For much of the student body, Winston told me, the recent attacks on black freshmen—who were added into several GroupMe chats and harassed with racist slurs, propaganda, and an invitation to a "daily lynching"—were their first encounters with overt racism. (The messages have been linked to a student in Oklahoma.) And they took place in what they'd been told would be a secure, progressive environment.
"I think that just really messed with people's heads and made them feel unsafe," Winston said, sitting in a campus Starbucks. "It was a wake-up call that racism's still here, and this is not over."
Another Wharton student, sophomore Sydney Liu, later told me that her friend and classmate, a black woman, had been verbally assaulted walking on campus just that morning. "Go home, you fat black bitch," Liu said her friend had been told.

At the crowded Bridge Cafe, freshman Benyamin Shaker was wearing a sharkskin suit and a white button-down shirt. He looked more like one of my hedge fund sources than a kid who'd just left home for the first time, and as he talked about buying Mexican equities in his personal account to trade on the election, he sounded like one, too. Shaker was born in Iran to a Muslim family, though he said he doesn't identify with any religion. At Wharton he's studying real estate and finance, and considering going back to Iran one day. He couldn't vote on Nov. 8 but is an active member of the UPenn College Republicans.
"Since the election we've been celebrating a lot," Shaker said. "We've been very careful in not being open about it, because people are very sensitive about it. A lot of our friends are sensitive about it. So on our side it's been very hushed up." During the campaign, he said, a pro-Trump stand he and his friends helped set up on Locust Walk, the main street running through campus, got trashed within an hour. "People took everything, ripped everything up," he said.
The hostility extends online, of course. Students' Facebook walls are littered with bashing on both sides by peers or friends from home. "If you look at the campus as a whole, I think you would see a lot of blame and a lot of division," Winston said. "It's going to be harder than ever to come together over something like this with feelings that are so intense." And Liu wondered whether the divide she sees at Penn will follow her after graduation. "As we go into the real adult world," she said, "I can't imagine his presidency won't affect where I choose to live, what profession I go into, the people I surround myself with—or who I kick out of my life."

Before it's here, it's on the Bloomberg Terminal.
LEARN MORE