Tusk Rejects British Calls to Protect Expat Rights After Brexit
By
Says lawmakers' complaints have 'nothing to do with reality'

Tusk tells May to trigger Article 50 now, if U.K. wants talks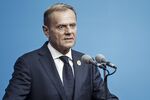 European Council President Donald Tusk bluntly rejected calls from 81 U.K. lawmakers who urged him to act to protect EU citizens living in each others' countries after Brexit.
Tusk hit back at the parliamentarians after they requested that he broker a deal guaranteeing that U.K. nationals living in other EU countries, and Europeans resident in Britain, would not be forced to leave after Britain exits the bloc. He dismissed the lawmakers' claim that the European Commission is obstructing efforts to reach an agreement, causing "anxiety and uncertainty".
The parliamentarians' complaint "is a very interesting argument, the only problem being that it has nothing to do with reality," Tusk said in a letter to the lawmakers published on his official website on Tuesday. "Would you not agree that the only source of anxiety and uncertainty is rather the decision on Brexit? And that the only way to dispel the fears and doubts of all the citizens concerned is the quickest possible start of the negotiations." 
About 3 million citizens of other EU countries are currently living in the U.K., while some 1.2 million British nationals are resident elsewhere in the bloc. Despite calls for an early agreement to protect the rights of these expatriates, the EU has told the U.K. it will not begin negotiating the terms of Britain's exit until Prime Minister Theresa May formally triggers Article 50 of the Lisbon Treaty. May has said she'll do that by the end of March, with Brexit negotiations lasting potentially another two years.
Bargaining chips
Tusk said U.K. members of parliament who wanted an early deal to guarantee the rights of EU and British citizens living abroad could have their wish if May triggered Article 50 immediately.
"Just like you, I would like to avoid a situation where citizens become 'bargaining chips' in the negotiation process," Tusk said. "In order for this not to happen, we will need precise and comprehensive solutions, which, other than nice-sounding expressions, will provide citizens with genuine guarantees of security."
He said he was reassured to hear of British politicians' concerns for the fate of EU citizens living in the U.K., "especially since we have assumed that one of the main reasons for the vote for Brexit was the rejection of the free movement of people."
Iain Duncan Smith, a Euroskeptic former minister in the British cabinet, said the EU was "playing politics with people's lives." He added: "They should agree to end the speculation and take away the anxiety people feel about their futures. The EU yet again puts systems above people."
Before it's here, it's on the Bloomberg Terminal.
LEARN MORE