Trump's Bannon Won't Attend Harvard Event for Campaign Managers
By
Strategist is under attack for Breitbart News leadership

Protest planned as groups cite ties to 'racist ideologues'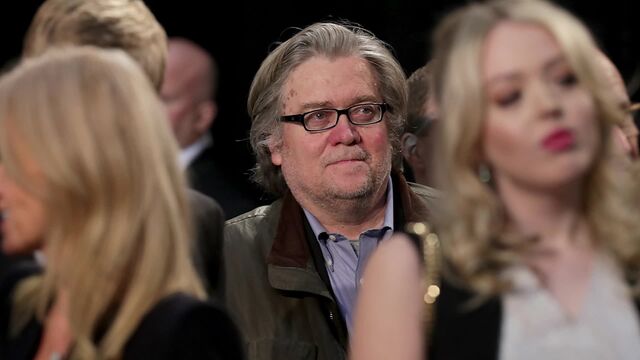 President-elect Donald Trump's campaign chairman and chief strategist, Steve Bannon, will not attend a renowned conference at Harvard University this week, organizers said.
Bannon will skip the Harvard Kennedy School's "Campaign for President: The Managers Look" conference, an event held every four years since 1972 that has been a primary source of material for presidential biographers. A coalition of communists, socialists, a labor union, peace activists and other leftist groups had planned to protest Bannon's appearance, posting on Facebook that "Trump brought racist ideologues into the mainstream."
Nicco Mele, director of the Shorenstein Center on Media, Politics and Public Policy at Harvard Kennedy School, said a Trump aide sent a note Tuesday afternoon that said Bannon's "schedule has changed. Apologies all around." Bannon had planned to appear at the two-day event on Thursday, when Trump is traveling to Cincinnati for a rally to thank supporters. The protest is scheduled for Wednesday, when the conference begins.
Other Trump aides including his campaign manager, Kellyanne Conway, have told the school they will attend, Mele said. Strategists from most of the 2016 presidential campaigns are attending, including Democrat Hillary Clinton's campaign manager, Robby Mook, organizers said. Republican Rick Perry's campaign manager also canceled, Mele said.
Mook and Conway are scheduled to appear on a panel together to conclude the conference, according to the event's agenda. The conference is the only historical record of presidential campaigns collected from rival strategists as they meet together, Mele said.
Bannon's appointment as Trump's chief White House strategist has drawn furious criticism from Democrats and others on the left who have called him a racist. Before joining Trump's campaign, Bannon was executive chairman of the website Breitbart News, which he once described as "the platform for the alt-right." The alt-right is a splinter conservative political ideology that is nationalist, anti-immigrant and anti-establishment, and while loosely organized, some of the movement's leaders are white supremacists.
"I've known Steve Bannon a long time," Trump told the New York Times in a Nov. 23 interview. "If I thought he was a racist, or alt-right, or any of the things that we can, you know, the terms we can use, I wouldn't even think about hiring him."
Before it's here, it's on the Bloomberg Terminal.
LEARN MORE