Sweden's Economy Slows as Investments, Public Spending Stall
By and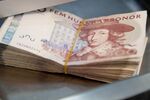 Swedish growth slowed amid weak third quarter investment and public spending as an expansion in the Nordic region's largest economy continues to abate from last year's output peak.
Gross domestic product rose 0.5 percent from the previous quarter and posted an annual rate of 2.8 percent, Statistics Sweden said Tuesday. Analysts had estimated growth of 0.5 percent and 3.1 percent, respectively. The krona was little changed at 9.76 per euro as of 12:30 p.m. in Stockholm.
The GDP data is bad news for the Riksbank since it "needs a strong domestic economy for inflation to rise," said Torbjorn Isaksson, chief analyst at Nordea Bank AB. The figures "support our view of further stimulus measures in December," he said.
The Swedish economy boomed last year, when a record wave of refugees streaming into the country helped stoke spending. The Riksbank has also unleashed an ultra expansionary monetary policy, cutting interest rates far below zero and pumping money into the economy through bond purchases in order to lift inflation toward its 2 percent target.

A number of analysts expect the Riksbank to extend its government bond purchases. Nordea and Danske Bank A/S also expect it to cut the benchmark repo rate, from -0.50 percent to -0.60 percent, when it announces its next decision on December 21.
According to Olle Holmgren, an economist at SEB AB, the fact that public consumption was weaker than expected in the three months ending in September suggests the positive effects of the 2015 refugee crisis are decreasing as the state spends less on accommodating and integrating migrants.
According to Tuesdays' data from Statistics Sweden, exports rose 1.3 percent in the quarter, consumer spending rose 0.4 percent while general government expenditure and investments were both flat.
Finance Minister Magdalena Andersson underlined the positive export and household consumption data, adding in an interview in parliament that the arrival of fewer asylum seekers to Sweden will continue to affect public consumption going forward.
Andersson said that it's positive that public finances are improving. "It will be exciting to see how it affects what forecast we present next time," he said. "I note that two independent agencies now see stronger public finances."
The central bank expects economic growth to slow to 3.3 percent this year, from 4.1 percent in 2015, and to reach what it calls more "normal" growth levels of about 2 percent in 2017.
Cathrin Danin, an analyst at Swedbank AB in Stockholm, said that while Swedish growth is slower, it is still "decent" when compared to other countries.
Before it's here, it's on the Bloomberg Terminal.
LEARN MORE