business
Super-Yacht Marinas for Oligarchs Lift Santander Pension Pot
By
Property assets helping to plug a $1.5 billion funding hole

Manchester concert venue is up 20% since acquisition in 2013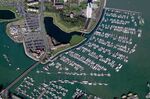 Banco Santander SA's U.K. pension fund manager had a specific target audience in mind when he had the ladies' bathroom facilities refurbished at Haslar Marina on the south coast of England.
Now "when the Russian oligarch moors up his super yacht, his girlfriend can have a shower that doesn't wobble," said Antony Barker, chief investment officer of the 11 billion-pound ($14 billion) trust. "Whereas the old ones looked more akin to the inside of a ferry ship, these are done up with huge mirrors, hair-dryers and make-up tables."
The renovation of the marina, which has about 650 berths, typifies a shift in the pension pot's investing strategy: buy more property and companies and fewer government bonds to help plug a 1.2 billion-pound-funding hole. The bank's pension shortfall is a feature common across Europe, and low-yielding securities are forcing managers to diversify their holdings to provide an adequate income for retirees that are living longer.
Santander owns four marinas and is about to buy a fifth, Barker said. Its growing portfolio of alternative assets includes a mushroom-selling business in South Africa, the 21,000-capacity Manchester Arena concert-venue where Canadian pop star Justin Bieber performed last month, and an array of British pubs.
"We're more active than most," Barker said. "We have a global reputation for doing deals and we see a host of opportunities."
The manager's allocation to assets such as property, venture capital and infrastructure is up to about 40 percent today from below 10 percent in 2012, Barker said, and will grow further with another 500 million pounds of investment planned in private equity. Allocations to alternatives assets in the world's biggest pension markets grew to 24 percent in 2015 from 5 percent in 1995, according to data from Willis Towers Watson.
Distressed Assets
Barker is weighing investing in distressed oil assets, while also amassing a portfolio of U.K. student housing. Santander's pension pot bought a number of Travelodge hotels from M&G Investments in October, he said, without being more specific, and is studying investment opportunities in South America and India.
"We think it's possible to hold things for five to seven years, actively manage them and enhance the proposition with a view to selling it on," Barker said. "That's what we're always looking for."
The value of the pension fund's assets hit an all-time high in September and is up about 25 percent this year, Barker said, compared with an 8.6 percent return from U.K. government bonds and 15.3 percent from the FTSE 100 Index. The pension manager has achieved an annualized return of about 14 percent over the last three years.
Still, the trust's funding gap remains above 1.2 billion pounds, the figure estimated at its last valuation in 2013, due to falling government bond yields pushing up liabilities and changes to how its deficit is calculated, Barker said. Santander is set to pay at least 140 million pounds each year into the retirement funds from 2017 through 2023 to cover a shortfall, according to the bank's annual report.
"Professional investors are increasingly looking at the impacts that pension deficits are having on companies," said Andrew Stephens, managing director of BlackRock Inc.'s U.K. institutional business. "Ultimately it's the sponsoring employer that's on the hook for paying those benefits."
Go-Kart Track
Barker is currently refurbishing the other marinas in their portfolio and also has plans for the Manchester Arena, which has delivered a return of about 20 percent since its acquisition in 2013. An underground electric go-kart track has just opened at the venue and he's looking to install a mezzanine floor in the atrium to add more restaurants.
"If you ask my teenage children, it's our most exciting investment," Barker said, after buying them tickets for Bieber's performance there in October. "But he's so 2016. They want Drake tickets next."
(
Adds hotel purchases in seventh paragraph.
)
Before it's here, it's on the Bloomberg Terminal.
LEARN MORE