Korea's Park Offers to Resign If Parliament Decides She Should
By
Park will follow whatever parliament decides on her future

Park's rating fell to all-time low of 4 percent last week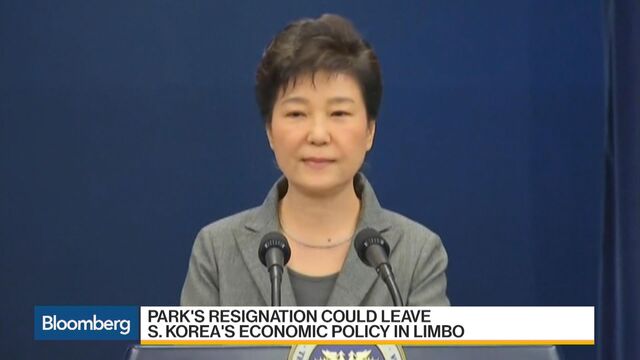 South Korean President Park Geun-hye offered Tuesday to resign over an influence-peddling scandal but only if lawmakers can agree on an orderly transition of power, an apparent move to buy time with a parliament that is grappling with whether to impeach her.
In a televised address in Seoul, Park apologized for the third time since the scandal broke and asked parliament to decide the direction of a "stable" power transition. Park maintained she has not sought personal gain, blaming the furor on associates suspected of extracting tens of millions of dollars from the nation's top businesses.
By saying she is willing to resign under certain conditions, Park has potentially disrupted, if temporarily, momentum to impeach her over a saga that could hurt Asia's fourth-largest economy. Some ruling party lawmakers had indicated they would vote with the opposition to remove her -- that would mean an election within 60 days, but only once the constitutional court agreed to the motion. Now at least some parliamentarians may be unsure of the fastest route to pursue, or the one that brings least risk for the ruling party.
QuickTake Q&A: Influence-Peddling Scandal Rocks South Korea
"Buying time is important because the opposition is likely to win if there's an immediate election and she would face stronger punishment," Kim Sung-soo, who teaches political science at Seoul's Hanyang University, said by phone. "Park's address today will cause at least some in her own party to hesitate over the impeachment call."
Read more: Park's resignation could leave Korea's economic policy in limbo
Park's address came days after one of the nation's biggest-ever demonstrations saw protesters march near her office demanding her arrest. The 64-year-old president faces an investigation for allegedly allowing her friend Choi Soon-sil to use their private relationship to meddle in government affairs. Park's approval rating sank to an all-time low of 4 percent last week.
"I will entrust the parliament with the issue of whether I should resign or remain in office," Park said Tuesday. "When the opposition and ruling party lawmakers come up with a plan to minimize confusion and the vacuum in state affairs and lead to stable transfer of the government, I will resign from my post in accordance with the schedule and legal procedures of that plan."
The won rose after Park's speech, climbing 0.2 percent to 1,168.65 per dollar as of 3:33 p.m. in Seoul. The currency has lost more than 3 percent since the scandal broke last month.
Opposition Response
Still, opposition parties indicated Park would find little respite. Democratic Party of Korea leader Choo Mi-ae wrote on Facebook that Park is employing a "petty ruse" to avoid being impeached. The second-biggest opposition People's Party will continue to seek impeachment, spokesman Son Kum-ju said.
The parties, which together hold 159 seats, have been looking to submit a motion as soon as Dec. 2 and secure backing from two-thirds of the 300-member National Assembly. Park's single five-year term is due to expire in February 2018. The prime minister would take over as interim leader should she resign.
"She's trying to buy time," said Kim Yun-cheol, who teaches political science at the Humanitas College of Kyung Hee University in Seoul. "This isn't a major change from earlier addresses, because she should have given a clear timetable on her resignation herself. She anyway knows lawmakers can't easily reach agreement."
The ruling Saenuri party said on its website after Park's speech that it accepts her decision and will do what it can to normalize state affairs. Saenuri holds 128 seats and has shown signs of internal disagreement on what to do with Park.
Two prominent members, including a provincial governor, defected last week and called on others to follow suit. Former party chief Kim Moo-sung has led a campaign to corral votes in favor of impeachment and pressure the incumbent chairman aligned with Park to resign.
Read more: An explanation of the scandal
"She's saying she will resign literally, but in reality, she has no intention to step down," DPK spokesman Youn Kwan-suk said by phone. "Her intention is to create more political uncertainties so that she can prepare for her own political exit."
A group of civic associations said they plan a rally near the presidential complex on Wednesday to protest her speech. Protesters on Saturday marched to within 200 meters of the Blue House before being blocked by riot police.
Business Involvement
The scandal has shed a light on the links between politicians and businessmen that have allowed the country's family-run conglomerates to dominate the economy for decades. Prosecutors have said Park colluded in a scheme to pressure the big business to donate money to foundations controlled by Choi. Park has called the probe a work of "imagination" and speculation.
Prosecutors have charged Choi with attempted fraud and expanded the investigation into Park's aides and executives at some of South Korea's biggest companies, including Samsung Electronics Co. and Hyundai Motor Co.
Park declined at the end of her speech to answer a question from a reporter on whether she admits to being an accomplice to her friend, an allegation made in an indictment against Choi on Nov. 20. Park said she would later answer questions separately.
— With assistance by Heesu Lee, Sam Kim, Shinhye Kang, and Seyoon Kim
Before it's here, it's on the Bloomberg Terminal.
LEARN MORE