Renzi Appeals to Internet's Undecideds as Referendum Looms
by
Premier on Facebook ahead of Dec. 4 constitutional plebiscite

Polls showed up to quarter of voters undecided in early Nov.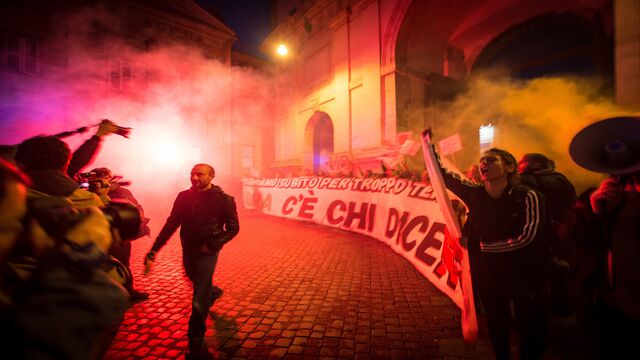 Italian Prime Minister Matteo Renzi is making a direct appeal to undecided voters in the closing days before the constitutional referendum on which he has staked his future, saying it was a chance to stop parliament and bureaucracy holding back the country.
With four days to go before the vote, Renzi is due to address a campaign rally in the city of Ancona on the Adriatic Coast on Wednesday afternoon. The premier has spent so much time on the road in recent weeks to push his reform that opposition parties have accused him of ignoring government business. He will close his campaign in the main square of his native Florence on Friday evening.
Renzi dedicated a more than hour-long Facebook Live session on Tuesday night to "those who have not yet decided." Up to a quarter of voters hadn't yet made up their minds, according to surveys published before a polling ban came into force on Nov. 20.
Pledging to rebut the "propaganda" he said opponents had spread online, Renzi said in his online talk that the changes would put an end to a paralyzing "ping-pong" of legislation between the two houses of parliament, leading to a more stable government. All opposition parties are against his reform to shrink and curtail the powers of the Senate.
"For the first time, you citizens can change the rules of politics. You can cut the number of politicians and how much they cost," Renzi said, sitting behind his desk as he read questions and comments on his laptop. "People have been waiting for this for 70 years." He said Italians could save 500 million euros ($533 million) a year with the reform, while his critics say the figure is closer to about 30 million euros.
Authoritarian Regime
Renzi dismissed accusations that the executive would become an authoritarian regime if the reform passed. "There is no change in the powers of the premier," he said. Instead, it was a change "to simplify things. We have a bureaucracy and an administrative system which is conceived to block things, starting with the parliamentary system."
Renzi also made a direct appeal to voters backing the anti-establishment Five Star Movement, the anti-immigrant Northern League and the center-right Forza Italia. "This is not a vote about me," said Renzi, who has promised to quit if he loses the vote, told the other parties' supporters.
Earlier Renzi, who has repeatedly criticized German Chancellor Angela Merkel for her pro-austerity stance and her dominance of the European Union, won a vote of confidence from her Finance Minister Wolfgang Schaeuble.
"If I could vote in Italy, I would vote for him, even though he isn't from the same political family as I am," Schaeuble told the Berlin Foreign Policy Forum. He said he hoped that Renzi would win the referendum.
'Mega-bureaucrat'
Schaeuble's support was swiftly seized upon by comedian-turned-politician Beppe Grillo, co-founder of Five Star. After Merkel, U.S. President Barack Obama, JPMorgan Chase & Co and European Commissioner Pierre Moscovici, here was "another 'mega-bureaucrat' wishing for a 'Yes' victory in the referendum," Grillo commented in his blog.
"On December 4, Italians will have the great opportunity of rebelling against this myopic technocracy (which is eating up Europe from within), defending their splendid Constitution," wrote Grillo, whose party wants to hold another referendum, this time on Italy's membership of the euro area.
As Renzi steps up his campaigning ahead of the vote, with a host of TV interviews, rallies across Italy and events on social media, media mogul and ex-Premier Silvio Berlusconi -- himself considered a master communicator -- complained that whenever he watched television, "I see always and only Renzi, because he is everywhere."
Berlusconi protested the constitutional reform would give the premier too much power over government and both houses of parliament, saying that if it was approved Renzi "would become the boss of Italy and of Italians. I'm sorry, but I won't stand for it."
Before it's here, it's on the Bloomberg Terminal.
LEARN MORE