Pharma CEO Hunts New Trophy After Prostate Cancer Blockbuster
by
Astellas assesses avenues to bolster medicine pipeline

Company has $3.6 billion in cash and 2019 patent cliff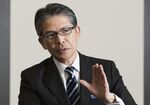 A $110 million bet on a prostate cancer medicine gave Astellas Pharma Inc. a blockbuster that helped turn it into one of Asia's most valuable drugmakers. Now, with patent expirations looming in 2019, Chief Executive Officer Yoshihiko Hatanaka is setting off on a hunt for his next best seller.
Armed with about $3.6 billion in cash, the Japanese drugmaker is assessing various investment options. Astellas has a history of using deals to expand and on the company's executive floor, banker plaques and trophies from deals are on prominent display. More acquisitions are possible and the Tokyo-based drugmaker's internal growth team is also looking at new diseases to expand into, Hatanaka said in an interview.
Astellas won joint rights to the prostate cancer drug Xtandi through an early tie-up with U.S.-based Medivation Inc. in 2009. As the drug has taken off, the Japanese company's sales jumped and its share price more than doubled over the past five years. With a market capitalization of $30 billion, Astellas is now in neck-to-neck competition with larger rival Takeda Pharmaceutical Co. to become Japan's biggest drugmaker by value.
As Hatanaka searches for his next blockbuster, Astellas has begun investing in experimental therapies for the muscular disorder ALS and in an emerging category of cancer drugs. He's also pruning slower-growth businesses. While the company will keep its focus on urology, transplant products and oncology, an internal team has identified muscular diseases and ophthalmology as new areas of potential expansion.
"We are just focusing on proprietary innovative medicines," Hatanaka said in the company's  headquarters, where meeting rooms are named after constellations. "Other than that we have forgotten about generic and OTC business – so selection and focus, that is the first thing." He didn't specify the possible size or specifics of potential targets.
Global Expansion
Over the past two years, pharmaceutical companies worldwide have announced more than $420 billion in acquisitions, although Japanese companies have been relatively smaller players. Japanese drugmakers like Takeda and Astellas are now showing a greater appetite for deals and partnerships as they seek to replenish flagging pipelines.
Astellas was formed in 2005 when two big Japanese drugmakers -- Yamanouchi Pharmaceutical Co. Ltd. and Fujisawa Pharmaceutical Co. Ltd -- were brought together. Hatanaka, 59, took the helm at Astellas in 2011. He had worked his way up at Fujisawa and was involved in the merger. He and the M&A team at the time wanted to choose a name that reflected their belief in the very frontiers of science, on the possibilities of the unknown -- which is why they featured stars in its name.
Xtandi was attractive at the time because the company was looking to make a foray into oncology and build on its pipeline of urology therapies. Global sales of Xtandi are now at more than $2 billion a year, according to data compiled by Bloomberg. Pfizer in August agreed to buy Medivation in a $14 billion deal that could help boost the drug's reach even further through the U.S. drugmaker's vast network.
Astellas shares were down 1 percent at 1,573 yen as of 12:44 p.m. Tokyo time.
Patent Cliff
Along the way, Hatanaka plans to also shed businesses that offer few growth options. For example, it company sold its dermatology portfolio in November as it no longer saw new products it could add to that suite.
"Without Xtandi, Astellas would have gone into a deeper patent cliff," said  Fumiyoshi Sakai, a health-care analyst with Credit Suisse. The company's biggest challenges in the coming year will be to figure out how to "overcome the 2019 cliff," Sakai added. The company needs a strong message from the CEO to revive innovation, he said. Potential patent expirations in 2019 for overactive bladder treatment Vesicare and anti-cancer Tarceva have been a pressure on the stock, according to the analyst.
Even as the company makes new investments, it will still invest 70 percent in current therapeutic areas. That would include expanding the use of Xtandi, which it is "confident we can keep growing," the CEO said. Astellas says it is satisfied with the partnership arrangement and Pfizer in a statement said it doesn't anticipate any material changes to the relationship.
In 2010, the Japanese company's $4 billion bid for OSI Pharma brought Astellas the lung cancer drug Tarceva. It spent $379 million in November 2015 to acquire Massachusetts-based Ocata Therapeutics Inc., which brought in a regenerative medical product for eye diseases.
In October, the company announced a 422 million euro ($447 million) investment in German oncology firm Ganymed, which is developing a new class of cancer drugs called ideal monoclonal antibodies -- where the treatment targets diseased tissues and not healthy cells. Another interest area would also be medicines in the immuno-oncology category that help the body combat cancer rather than directly attacking the cancer cells themselves.
In July this year, Astellas broadened its tie up with California-based Cytokinetics Inc., agreeing to working on further developing a couple of drugs including its experimental compound CK-2127107 for the potential treatment of ALS, or amyotrophic lateral sclerosis.
"Now there are a lot of advances in sciences in the market," Hatanaka said. "It's time for us to carefully look at those opportunities, to assess and invest in them."
Before it's here, it's on the Bloomberg Terminal.
LEARN MORE