Palestinians Re-Elect Abbas to New Term as Fatah Party Leader
By and
Ruling party starts conference aimed at rejuvenating movement

Aging Abbas opens meeting amid speculation on his successor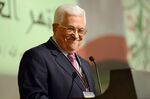 Palestinian Authority President Mahmoud Abbas was appointed to a new five-year term as head of the ruling Fatah party at the opening of a convention that may provide clues about who will ultimately succeed him as the prospect of peacemaking efforts with Israel fades.
Palestinian leaders from the West Bank, Gaza Strip and abroad gathered at the Presidential Palace in Ramallah Tuesday for a four-day meeting that will end Dec. 2 with votes to pick members of Fatah's governing bodies, the Central Committee and the Revolutionary Council.

"We are meeting today with all those who were involved in the battle of defending the Palestinian revolution," Abbas told more than 1,300 delegates in remarks broadcast on Palestinian Television.
Besides leading the party, Abbas, 81, has served as president since January 2005, when he was elected to a four-year term. Subsequent elections were never held. While considered a relative moderate in Palestinian politics, Abbas has refused to negotiate with Israel unless its government halts settlement construction in the West Bank and east Jerusalem. Both he and Israeli Prime Minister Benjamin Netanyahu blame each other for the absence of peace negotiations, which collapsed in 2014.
"The objective of the conference is to provide some stability for the Palestinian leadership because the mood is very pessimistic and the young generation is growing more alienated," said Ghassan Khatib, a political scientist at Bir Zeit University and former cabinet member in the Palestinian Authority.
Abbas is under pressure from Egypt, Saudi Arabia, Jordan and other Arab countries to pick a successor and assure a peaceful transition when he leaves the stage, Khatib said.