China's Old Economy Is Roaring Back to Life
Bloomberg News
Gauge of rail cargo, power use, and lending at three-year high

'Gizmos and services of future consumption' on hold: economist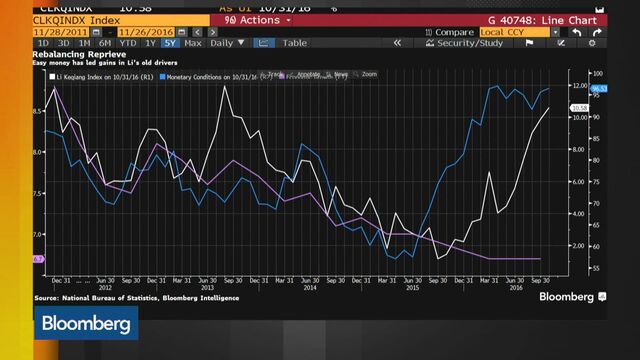 Proxies for growth once favored by China's premier are bouncing back amid a stabilization in smokestack industries.
Electricity use, rail cargo volume and bank loans -- combined in a weighted average known as the Bloomberg Intelligence Li Keqiang Index -- are collectively at the highest level in three years.
While the strength shows fiscal and monetary stimulus is putting a floor under expansion, it's also evidence that stabilization is reviving industries such as steel and property that don't really fit plans to shift to more reliance on services and consumption. Another wrinkle is that some crucial new economy drivers are looking slightly less robust.
"The smokestacks are billowing again as the old economy comes roaring back," said Frederic Neumann, co-head of Asian economic research at HSBC Holdings Plc in Hong Kong. "That can only be temporary, being fueled by an ultimately unsustainable build-up of debt. The key to lasting development is the new economy, the gizmos and services of future consumption, but that's seemingly on hold for now as the old economy gobbles up credit."

Reports Thursday will give a fresh look at how factories and services fared in November. The official manufacturing purchasing managers index and a private reading from Caixin Media and Markit Economics both edged down to 51, according to economists surveyed by Bloomberg as of late Tuesday, near the prior month's two-year high of 51.2 for both. Numbers above 50 indicate improving conditions. Services rose to 54 in October.
Rebalancing is a key goal for China's policy makers, who are seeking more sustainable growth centered on consumers instead of factories and other old economic engines. Services accounted for more than half of output last year for the first time.
However, some metrics show the new economy is cooling. The Bloomberg Intelligence New China Real Activity Index fell to 8.34 in September, the lowest in its 10-year history. The gauge is a weighted average of consumption of medicine, vehicle exports, clean energy electricity generation, computer production and output by private companies.
"It should put to rest the thought of a smooth rebalancing from manufacturing to services," said Derek Scissors, Washington-based chief economist at China Beige Book International. "Successful rebalancing will face repeated bumps."
Read more: China Beige Book sees rebalancing reversal
Another sign of life in the old economy: Production of cement, electricity, steel and glass accelerated in October from the previous month, statistics bureau data show.
Fresh highs for the Li Index point to China's "old economy clanking into gear," Bloomberg Intelligence economists Tom Orlik and Fielding Chen wrote in a recent report. "The good news: It confirms the story of robust growth told by the official data," they said. "The bad news: It shows the old, energy-intensive industrial sector roaring back to life."
The Li gauge rose 10.58 percent in October from a year earlier after rallying from 1.16 percent in September 2015, the lowest reading stretching back more than a decade. Loans had the best gain with a 13.1 percent rise from a year earlier, though that's up from a recent 10-year low. Rail cargo has risen 10.7 percent. Power output is up 8 percent.
The gauge is an average of year-on-year growth rates in bank lending and electricity production, each weighted at 40 percent, with the remainder coming from rail cargo volume. It substitutes electricity production for consumption as they're mostly similar and there's more historical data for production.
'Reference Only'
Li's preference for watching those proxies emerged from diplomatic cables WikiLeaks released in 2010. China's gross domestic product figures were "man-made" and "for reference only," Li, then party secretary of Liaoning province in the rust-belt northwest, told the U.S. ambassador in 2007. He said he instead liked to monitor growth in his province with the three indicators, according to the leaked communications.
Li, who became premier in 2013, is now confident the country will achieve its major full-year targets, state media reported this month. China should promote innovation, steady employment, and expand aggregate demand moderately, Li said at a seminar in Beijing.
Increased spending on public-private partnership projects, many focused on investing in clean energy and electric vehicles alongside traditional purposes such as water and waste management, shows rebalancing is on track, according to Karine Hirn, a partner at East Capital in Hong Kong, an emerging markets fund manager that oversees about $3 billion.
"China isn't drifting away from its strategic objectives," she said. "We're not surprised by the recovery as we've definitely seen other macro numbers pointing at a stronger phase of investments, especially through PPPs."
Michael Every, head of financial markets research at Rabobank NA in Hong Kong, said returning to old growth models is reminiscent of the movie "Groundhog Day," whose protagonist is condemned to relive the same day over and over until he gets it right.
"More borrowing, more over-investment, more can-kicking," Every said. "If this wasn't a finite strategy that will have to end badly one way or another, I'd be breaking out the champagne. As it is, I'd be fastening my seat belt."
— With assistance by Jeff Kearns, and Kevin Hamlin
Before it's here, it's on the Bloomberg Terminal.
LEARN MORE