Investors Flee Gold Fund at Fastest Pace in Over Three Years After Trump Win
Over $1 billion in recent outflows.
By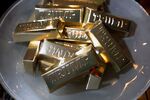 President-elect Donald Trump loves gold.
Gold does not love him back.
Outflows from the SPDR Gold Shares exchange-traded fund (GLD) — far and away the largest exchange-traded commodity fund by assets — have totaled nearly $1.4 billion over the five sessions ending Friday, marking the highest withdrawals over such a period since 2013.

Ahead of the election, conventional wisdom held that the uncertainty elicited by the election of the real-estate mogul would be a boon for bullion prices. That's proved to be off the mark, as the rise in real rates and strength in the U.S. dollar (partially reflecting expectations about the President-elect's fiscal policies, and also a function of firming economic data stateside) have weighed on the material's value.
Gold prices have fallen by more than 7 percent since the election, to $1,185 per ounce.
The victory of the Republican nominee has been viewed as a repudiation of experts by the electorate. Somewhat fittingly, that same theme has largely been manifested in financial markets since Nov. 8.