How To Eat Like a Queen in New York—for $20 or Less
Eat like royalty on a pauper's budget.
By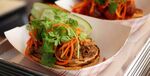 New York is not always the most budget-friendly city, but there's nothing like the additional expenses—gifts, tips, and parties—of the holiday season to really drive the point home. At least you don't have to splurge on good food. 
Below are some of the best meals in New York for $20 or less, recommended by the chefs and industry insiders who eat there. Because if you're going to buy that $500 sock calendar or $1500 wine dispenser, you're going to need to save some money.
Rosie's 
29 East 2nd St., Manhattan
Winner winner, taco dinner. Rosie's boasts house-made tortillas, colorful cocktails, and plenty of options below the $20 mark. "The beer batter for the cod is light and crispy," says chef Jessi Singh of Babu Ji, the hip Indian eatery in the same neighborhood, of the $8 pescado tacos. "They add this great cabbage-jalapeno slaw that really has a kick to it, and their chipotle-lime mayo adds another dimension of flavor and heat." 
Lam Zhou Handmade Noodle
144 East Broadway, Manhattan
As the name promises, the noodles at this Lower East Side Chinese shop are actually handmade, right in front of your eyes. "While I love a bowl of beef tendon stew, the sleepers on this menu are less than obvious," says Irene Li, co-owner of the Boston-based food truck, restaurant, and shipping-container enterprise collectively known as the Mei Mei Group. She recommends the Dry Noodles with Minced Pork Sauce and fried dumplings. And yes, it's super-cheap: The priciest menu item costs $10–and it will buy you 50 frozen dumplings.
Cheeky Sandwiches
35 Orchard Street, Manhattan
When it's open—the hours of operation are fluid—you can grab a New Orleans-style sandwich for $8.50 or less. Chef JJ Johnson of the Cecil in Harlem calls it a "hidden gem" and recommends the Chicken Cheeky Sandwich ($6.50).



Num Pang Sandwich Shop
multiple locations, Manhattan
Almost everything on the menu is under $15, and healthy options (rice bowls, soups, salads) abound. Jessie Price, editor in chief of EatingWell, recommends the Five-Spice Glazed Pork Belly Sandwich ($9.25) with a side of spicy Cambodian slaw ($3.95). Nina Elder, executive food editor at Rachael Ray Every Day, likes the seasonal roasted Japanese yam sandwich ($7.95).

Inday
1133 Broadway at 26th Street, Manhattan
This fast casual, Indian-inspired lunch option is a cure for the sad desk salad. The restaurant offers a 100 percent gluten-free menu, along with antibiotic-free meats, local vegetables, and organic beverages. Here's a combo suggestion from a pro: "I start with a base of Not Noodles (kelp noodles, beet, carrot, and cucumber), and top with Paradise Chicken (roast chicken breast, house spice, kale, fennel, turmeric slaw, mango vinaigrette, and puffed rice)," says Seamus Mullen, chef and owner at Tertulia and El Colmado.



The Little Beet
multiple locations, Manhattan
Another good way out of the lunch funk, the expansive, seasonal menu serves omnivores, gluten-free vegans, and everyone in between. Pam O'Brien, deputy editor of SHAPE, recommends the Crispy Pearl Rice ($14) or the "huge," grass-fed double burger with cheddar, bacon, and "special sauce" ($19). "There truly is something for everyone here," she says.

Yun Nan Flavor Garden
5121 8th Ave., Brooklyn
For great Chinese food, skip the terrible takeout and go to Chinatown. Don't be misled by some of the more simple sounding dishes. The $5.75 "dumpling with hot and sour sauce," says Andrew Knowlton, deputy editor of Bon Appétit, is "a life-affirming soup that will heal any cold you throw at it."
Taqueria Coatingzo
76-05 Roosevelt Ave., Queens 
It's worth the trip to Queens for the $2 tacos and $8 huaraches (flat masa breads covered in beans, vegetables, cheese, and meat). Chef Michael Toscano of Le Farfalle in Charleston, S.C., and a former New York resident, says the pastor and lengua tacos and the pancita de res (tripe) soup "are the best in town." Make sure to stop at an ATM on the way because it's cash only.
Mimi Cheng's Dumplings 
179 Second Avenue and 380 Broome St., Manhattan
As an homage to their mother, Mimi, the Cheng sisters want their diners to experience authentic, delicious, and super-cheap Taiwanese food. Chef Matt Hyland of Brooklyn's Emily in Clinton Hill and Emmy Squared in Williamsburg, recommends the "Reinvented Classic," a pasture-raised pork, local baby bok choy, and organic cabbage dumpling: $8 for 6 pieces when pan-fried, or $10 for 8 pieces when boiled. 

Artichoke Basille's Pizza
locations in Manhattan, Brooklyn, and Queens (including LaGuardia Airport!)
The $5 artichoke slice is legendary; every non-vegan in the city should try it once. "The richest pizza I ever had" and a "true one-and-done affair," says Ali Khan, host of the Cooking Channel's Cheap Eats. (Editor's note: The humble Margherita slice is not to be overlooked, either.)

Great Northern Food Hall
Grand Central Terminal, Manhattan
The cult of Noma—the acclaimed Nordic restaurant in Copenhagen that recently announced it will close—lives on in a more affordable guise in the heart of the New York, thanks to co-founder Claus Meyer. "A quick and satisfying bite in the bustling transit hub," says Mitchell Davis, executive vice president of the James Beard Foundation. Food blogger and cookbook author Jerry James Stone recommends stopping by in the morning for the house-roasted coffee. In the evening, though, take advantage of the local craft beers, American wines, and fully stocked bar.
Arepa Lady
77-02 Roosevelt Ave., Queens
Originally a food cart, now with a full-fledged restaurant nearby, Arepa Lady is known for—wait for it—arepas, the versatile Colombian maize cakes that can be made sweet or savory. It's a favorite of Alison Tozzi Liu, editorial director at the James Beard Foundation.

Saiguette
935 Columbus Ave., Manhattan
Don't be dissuaded by the ugly exterior. This Vietnamese takeout/delivery spot is about to be your favorite new place for hot noodly soup on the Upper West Side. "Go for any of the five types of pho, like the spicy pho udon with beef, brisket, noodles and greens in a sensational broth," says Robert Rosenthal, author of Short Order Dad: One Guy's Guide to Making Food Fun and Hassle-Free. Soups are $12.50 or less, and if you pick it up yourself, you can take 10% off.
Los Tacos No. 1
75 Ninth Ave., Manhattan
The tacos are served fast, cheap, and hot, the sides are free, and since you're already in Chelsea Market, you can swing by the Anthropologie sales rack on your way out. Tiffani Faison, chef and owner of Tiger Mama and Sweet Cheeks in Boston, is a fan. 
Spicy Village,
68 Forsyth St., No. B, Manhattan 
Forget ambience, this Chinatown dive is about good food. You might have to wait in line to sit down, but it's a BYOB establishment, so you should be able to keep yourself busy. Bring friends and get the $12.95 Big Tray Chicken: "A big tray of chicken stewed in a fragrant, spicy Sichuan broth comes to the table with hand-pulled noodles, potatoes, and rice in the mix," Davis says. A single order will feed several people. 
Great Taste Dumpling
4317 8th Ave., Brooklyn
This is where you go to skip the Sunday Dim Sum brunch lines, says Greg Lofts, senior food editor at Martha Stewart Living. The five-for-a-dollar pork fried dumplings are "impossibly crispy on the bottom but soft and silky everywhere else, exactly as they should be," he says. 
King of Falafel and Shawarma
locations in Astoria and Manhattan
Originally a single location street vendor in Astoria, the king now has both a truck and a restaurant in Queens, and a cart in midtown Manhattan. "Chicken and falafel over rice," says chef Dale Talde of Talde Brooklyn and Massoni, "my go-to, hands down, no competition." ($8)



(
Corrects location of the original King of Falafel and Shawarma food cart in last paragraph.
)
Before it's here, it's on the Bloomberg Terminal.
LEARN MORE