politics
GOP in Congress Seeks Action on Border Security, Not Immigrants
By
Little appetite seen for action on undocumented people in U.S.

Leaders view Trump's promise of wall as mostly theoretical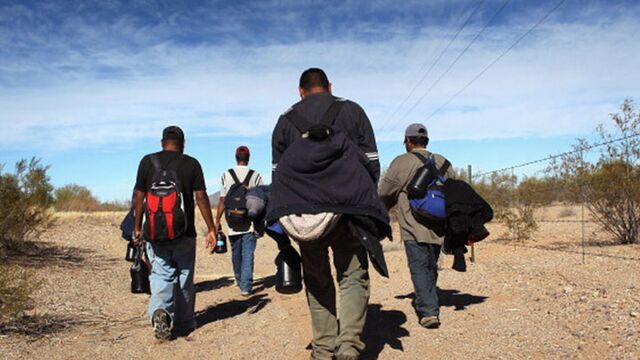 Republican leaders in Congress say they want to advance legislation next year to secure the U.S.-Mexico border, but they don't favor addressing the status of 11 million undocumented immigrants in this country.
House Majority Leader Kevin McCarthy told reporters Tuesday that last year's border-security proposal by House Homeland Security Chairman Mike McCaul is a "good place to start" in talks with President-elect Donald Trump. The McCaul measure wouldn't build a wall on the border as Trump insisted he would do during his campaign.
Instead, it would require the Department of Homeland Security to achieve operational control of the Southwest border in five years, while authorizing $1 billion a year over 10 years to meet various security goal. 
McCarthy said changes to immigration laws will have to wait. "I don't think anything changes on immigration until we secure the border," he said.
In the Senate, party leaders also want better border enforcement before taking the debate any further. That's a change from the comprehensive measure the Senate passed in 2013, which included a pathway to permanent legal residency for undocumented immigrants.
'It Just Doesn't Work'
"My conclusion is we're not going to be able to do a big comprehensive bill," said Senator John Cornyn of Texas, the No. 2 Republican leader. "We've tried that. It just doesn't work. We need to secure the border and we need to enforce the law in regards to people with criminal records who are illegally in this country. And then we can have a further conversation."
Cornyn and Senator John Thune of South Dakota, the No. 3 Republican leader, say the idea of a wall should viewed as more theoretical than concrete.
"There's the virtual wall, the technological wall, the real wall, the fencing -- there are lots of permutations of this now being batted around," Thune said in an interview. "And I'm not sure exactly what it looks like. But I think border security and the wall are going to be the priority in any debate about immigration."
Trump has already backed away from the idea of a fortified wall, saying in a CBS "60 Minutes" interview days after his election that he would accept fencing in some areas. He didn't repeat his campaign promise to deport all undocumented immigrants, saying he would focus first on those with criminal records and address the others later.
His transition website quotes him as saying in August that only when the U.S. has "ended illegal immigration for good, including the construction of a great wall," will "we be in a position to consider the appropriate disposition of those who remain."
2013 Proposal
The last significant action on immigration was in 2013, when the Senate passed its plan, 68-32, including a path to legal residency and $46 billion to secure the border with Mexico. The measure would have doubled the U.S. Border Patrol's size by adding 20,000 agents, required 700 miles of fencing at the Mexico border, and added unmanned aerial drones to help police the border.
That year, House Republicans addressed border security in a piecemeal way, without any effort to change immigration laws, and the two chambers never agreed on a plan.
Some Senate Republicans warn that Democrats will likely insist on a pathway to legal status for undocumented immigrants as part of any bill next year, and their votes could be needed in a chamber that Republicans will likely control 52-48. Other Republicans, including Lindsey Graham of South Carolina and John McCain of Arizona, say it's important to address the border and undocumented immigrants in a single bill.
McCain, who has pushed his party in the past to address needs of Latino immigrants, said he will "certainly be in an amending mood" if his party's leaders advance a border-only measure.
"Obviously we need to secure the border, but we also need to do comprehensive immigration reform," he said in an interview.
Legal Status
In the House, some rank-and-file Republicans say there would be openness to looking at a pathway to legal status, but Trump would need to take the lead and move the discussion in that direction.
"It depends on whether Trump wants to pull a Nixon-goes-to-China, because he has credibility on this issue that Democrats didn't have," said Representative Tom Cole, an Oklahoma Republican. "It depends on what his administration recommends. I think we can pass what they recommend."
Still, the election results provided little incentive for Republicans to take on more than border security, at least initially, analysts say.
Clinton won 65 percent of Latino voters, according to CNN exit poll data, a lower share than in 2012 when 71 percent of Latinos voted to re-elect President Barack Obama. Donald Trump outperformed Mitt Romney's 2012 share of Latinos, with the real estate mogul drawing 29 percent compared with Romney's 27 percent.
Not Motivated
"Voters didn't seem motivated to vote against Trump based on his desire to build a wall," said Ron Bonjean, a former top aide to House Speaker Dennis Hastert and Senate Republican leader Trent Lott. "So lawmakers will feel emboldened to push for border security, and there would be questions about whether a pathway to citizenship needs to be a part of it."
In recent interviews, many House Republicans are pointing to McCaul's proposal as the best path forward for now.
McCaul's plan would require Homeland Security to achieve control of high-traffic areas of the Southwest border in two years, and the entire Southwest border in five years, while creating a commission to independently verify it is secure.
The legislation, H.R. 399, would set penalties for the agency's political appointees -- including being denied pay raises and bonuses, and being barred from traveling on government aircraft -- if the administration doesn't meet the bill's goals. It would provide a sector-by-sector analysis of the border and some flexibility to achieve security goals.
"Get the border done first, then the other stuff piecemeal," said Representative Michael Conaway, a Texas Republican who favors McCaul's ideas. "A comprehensive bill is a dirty word in the House."
Before it's here, it's on the Bloomberg Terminal.
LEARN MORE