Democrats Target Price Nomination in Proxy Fight on Health Care
By
HHS choice wants to dismantle Obamacare, revise Medicare

Schumer says Republicans plan a 'war on seniors' in 2017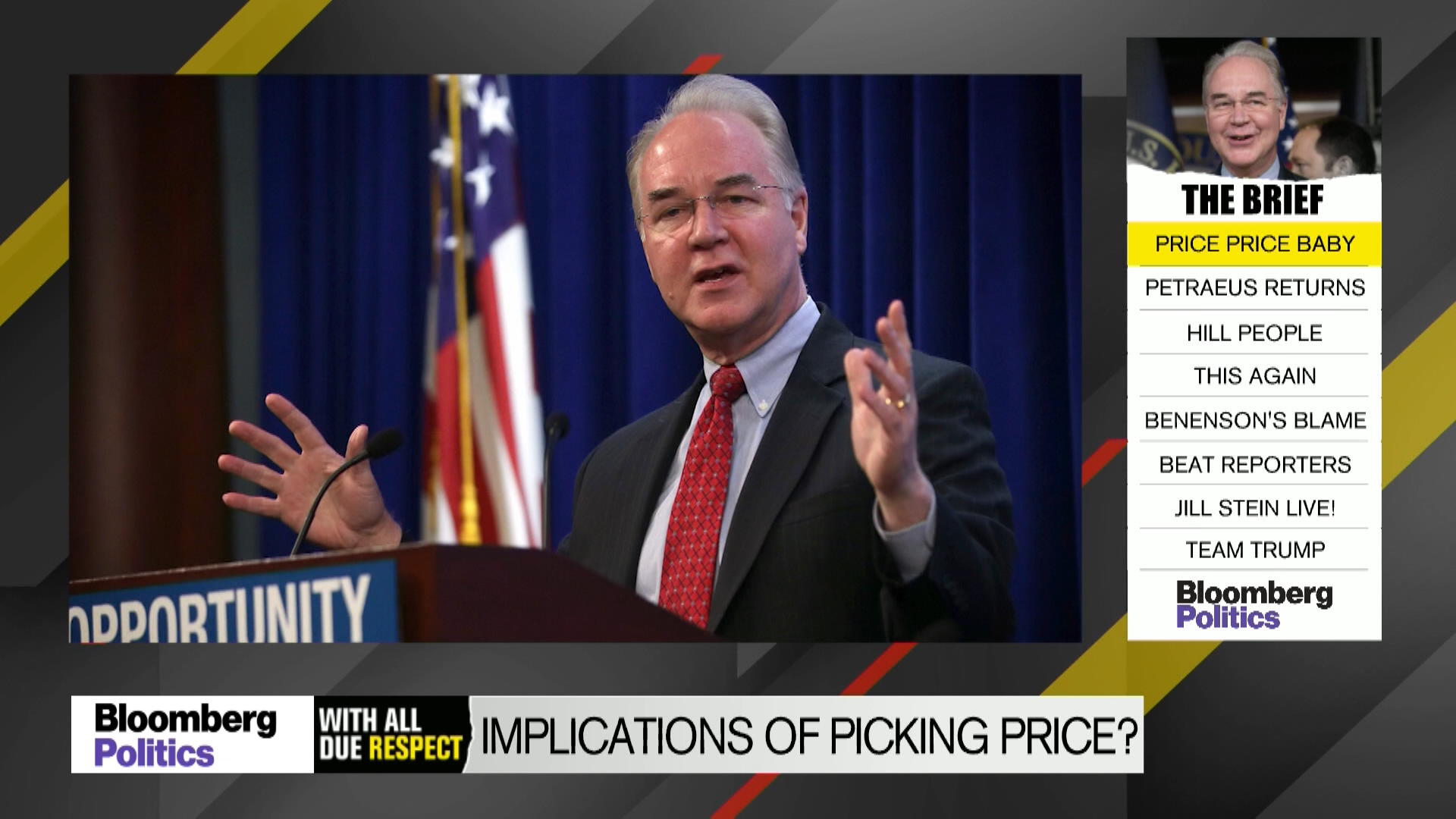 Senate Democrats plan to put up a fight against Donald Trump's choice of Representative Tom Price to become secretary of Health and Human Services, though members of the minority party know they can't block confirmation by themselves.
Senator Chuck Schumer of New York, who becomes minority leader in January, said Tuesday that Democrats could block Price if a few Republicans join them. Price of Georgia has led efforts to dismantle Obamacare and backs offering Medicare recipients a fixed sum to shop for private coverage.
"There ought to be bipartisan support against a secretary who's going to privatize Medicare and not fund Planned Parenthood," Schumer told reporters.
Schumer said he'll urge Democrats to put Price, chairman of the House Budget Committee, through strict vetting and tough questions about Medicare in particular, as Democrats seek to lay down markers in what will likely be bruising fights next year over the future of President Barack Obama's signature health-care program.
"My guess is the American people will urge Democrats and Republicans not to put in a nominee who has these views," Schumer said, while acknowledging Price, 62, could change his positions as he faces confirmation.
'Completely United'
"If he sticks with them, I think there is a chance his nomination will fail," Schumer said. "This is the kind of issue where Democrats have been completely united -- against Medicare privatization -- and a lot of Republicans have been dancing on the head of a pin because they know the hard right of their party wants it, but they know it's so unpopular with the public."
In a sign that Democrats may unify over their opposition to Price, Indiana Senator Joe Donnelly, a moderate Democrat facing a tough re-election battle in 2018, was one of the first to come out against Trump's pick.
"Tom Price has led the charge to privatize Medicare, and for this reason, I cannot support his nomination," he said in a statement.
Senators Chris Murphy and Richard Blumenthal, both of Connecticut, also announced their opposition to Price in separate statements. Murphy said the nomination is "the first test" of the fate of Medicare and Obamacare in Congress.
Bernie Sanders of Vermont accused Trump of "hypocrisy" for picking Price, while Debbie Stabenow of Michigan also criticized the choice.
Price needs only 51 senators to support his confirmation after a 2013 rule change enacted by Democrats eliminated the 60-vote requirement for advancing all nominations except Supreme Court justices. Price has substantial early support from Republican leaders.
Schumer questioned Price's views, though not his qualifications, and his nomination may become a major fight for the new administration. Other choices by Trump won early praise from both sides of the aisle, including the disclosure of his pick of Elaine Chao as secretary of transportation by a person familiar with transition planning.
'War on Seniors'

"When it comes to issues like Medicare, the Affordable Care Act and Planned Parenthood, Congressman Price and the average American couldn't be further apart," Schumer said. "It's clear that Washington Republicans are plotting a war on seniors next year."
"Democrats will not let them win that fight," the Senator said.
Schumer noted that Republicans sought to privatize Social Security after President George W. Bush won re-election in 2004, and said they seem intent on making the same effort on Medicare.
"Go try it. Make our day. Democrats from blue states, purple states, red states, are going to link arm-in-arm to protect Medicare for our seniors," he said.
Schumer declined to answer a question on whether Democrats erred in changing the rule in 2013, which now means Democrats can't block a nomination on their own.
Outgoing Minority Leader Harry Reid of Nevada, who engineered the rule change, said it was necessary for a variety of reasons and that Democrats need help from only a few Republicans to block a confirmation after picking up two seats in the November election.
Before it's here, it's on the Bloomberg Terminal.
LEARN MORE