China Welcomes Foreign Investors to Its Nasdaq: QuickTake Q&A
Bloomberg News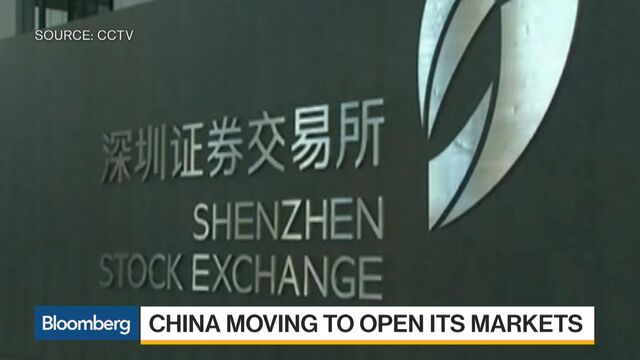 Investors who like roller coasters have a volatile new ride to try. China, in another step toward opening its market to the world, is creating an investment channel for foreigners to buy shares on the Shenzhen Stock Exchange, its version of the Nasdaq Stock Market. Starting Dec. 5, foreign investors can buy shares in some of China's fast-growing health-care, consumer and technology firms without prior approval from authorities in Beijing, but subject to daily quotas. A similar opening of the Shanghai Stock Exchange hasn't produced the sort of demand some had expected.
1. What stocks are involved?
The new Shenzhen link is expected to make about 880 stocks accessible to foreign investors. They include automaker Chongqing Changan Automobile Co., TCL Corp., China's biggest consumer-electronics maker, and appliance maker Midea Group Co.
2. How important is the Shenzhen exchange?
Shenzhen itself is a former fishing village close to Hong Kong that's now a flourishing financial center. Its exchange had a market capitalization of $3.31 trillion as of Nov. 25, according to data compiled by Bloomberg, smaller than Hong Kong's $4.21 trillion exchange, and Shanghai's $3.59 trillion, the data show. Shenzhen includes China's trading venue for startup companies, ChiNext, though trading in those stocks will at first be limited to institutional investors.
3. Why is China doing this?

Foreign investment in the mainland's $6.8 trillion stock market is tiny, and limited international access to the domestic market is one of the things hurting China's bid to become part of the widely followed MSCI Emerging Markets Index. 
4. What other steps has it taken?
China cracked the door open in 2003 with its Qualified Foreign Institutional Investors program, which let designated fund managers outside China invest in companies listed in the country. In 2014, China opened an investment link between Hong Kong and Shanghai's stock exchange, making 569 Chinese companies accessible to investors.
5. How's that one working out?
Not exactly as planned. Instead of pouring into Shanghai, money has been rolling out to Hong Kong on a net basis, month after month, as China's higher-priced shares draw little foreign interest. Traffic through the Shanghai connect has rarely come close to hitting the daily limit. Global investors sold a net 3.51 billion yuan ($511 million) of mainland shares using the Shanghai-Hong Kong link in the first half of November.
6. What are financial markets saying?
The Shenzhen Composite Index is down 7.8 percent this year through Nov. 25, though that decline has come after a 63 percent gain in 2015.
7. Is this a case of buyer beware?
Investors around the world need to make sure they're ready for China's unique brand of market management. The government has shown a propensity to talk up the country's stock market -- the second-largest after the U.S. -- only to step in when shares tumble.
The Reference Shelf
— With assistance by Benjamin Robertson, Gary Gao, and Laurence Arnold
Before it's here, it's on the Bloomberg Terminal.
LEARN MORE