technology
Samsung Plan to Boost Value Falls Short of Elliott's Goals
By and
Company considering adding at least one new outside director

Stock buybacks, increased dividends will make up cash return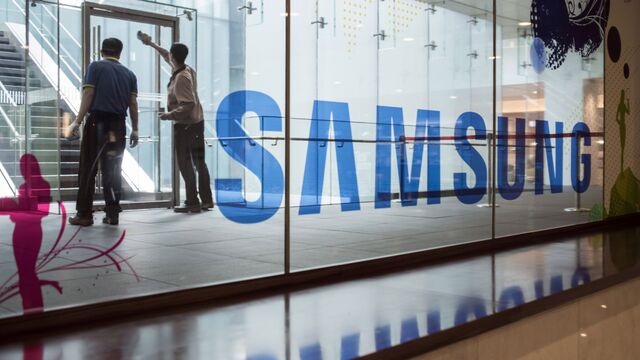 Samsung Electronics Co. is demonstrating it is finally willing to be responsive to shareholder calls for change. But not that responsive.
Elliott Management Corp. began campaigning last month for an overhaul of Samsung Electronics as the company was struggling to contain the fallout from battery fires in its Note 7 smartphones and preparing for heir apparent Jay Y. Lee to assume greater control of the family enterprise. Last year, Elliott lost a fight to prevent a merger of two units within the conglomerate, Cheil Industries Inc. and Samsung C&T Corp.
Now, it appears that Elliott will have to wait longer for broad change at South Korea's most valuable company. Samsung said it will add at least one outside director next year, while the investor had sought three independent directors. Samsung will use 50 percent of free cash flow in shareholder returns for this year and next, indicating a return of about 9.5 trillion won ($8.1 billion) in 2016. Elliott had sought a special dividend of 30 trillion won.
Billionaire Paul Elliott Singer, who leads Elliott, had also pushed for Samsung to separate into an operating company and a holding company, and list shares on a U.S. exchange. The Suwon, South Korea-based company said it will spend at least six months looking at such a structure and foreign listing -- without promising any definite change. The review doesn't include the Samsung C&T merger, the company said.
"The restructuring guidance fell short of investors' expectations," said Park Kang-ho, analyst at Daishin Securities Co. "The announcement wasn't strong enough to offer a further boost to the shares."
Samsung shares, which are up more than 33 percent this year, were unchanged at 1,677,000 won at the close in Seoul.
A representative for Elliott didn't have an immediate comment on Samsung's announcement. Blake Capital LLC and Potter Capital LLC, affiliates of Elliott, said they owned about 0.6 percent of Samsung Electronics when they announced their push for change on Oct. 5.
Samsung also said it will increase total dividends by 30 percent in 2016, bringing the annual dividend amount to 4 trillion won. The rest of the allocated total cash return will be used to buy shares starting at the end of January. Samsung completed a share buyback worth 11.3 trillion won earlier this year.
Read here: Gadfly column on Samsung's cash
The changes come as Vice Chairman Lee increases his influence at the world's biggest smartphone maker, which is recovering from the Note 7 smartphone crisis. The company is also grappling with an influence-peddling scandal linked to Korean President Park Geun-hye, with its offices raided twice as part of investigations. Prosecutors are looking into links between Samsung and a confidant of the president.
"It now has to pull itself together amid ongoing troubles, including the recent political scandal, so it isn't a great time to execute such a structural reform just yet," said Lee Sang Hun, governance structure analyst at HI Investment & Securities Co.
Samsung said it's looking for a "highly qualified" director "with global corporate experience" and plans to nominate at least one new, independent board member for approval at the next annual shareholder meeting in March 2017.
"The outside directors recommended by Elliott are likely to be very independent from the current board, thus we can expect monitoring inside and outside of Samsung Electronics to strengthen,'' said Cho Sung Ick, a fellow focused on industry structure at the Korea Development Institute.
The electronics giant said it needs to keep a net cash balance of 65 trillion to 70 trillion won, based on its historical and expected capital expenditures, working capital requirements, acquisitions and other financing needs. Still, the company will review its cash position every three years and return any excess beyond the target balance to shareholders, Samsung said.
"Samsung has faced multiple challenges in 2016," said Samsung Chief Executive Officer Kwon Oh-hyun. "In 2017, the global economic outlook will remain uncertain and the competition in key products will continue to intensify but we will continue to invest."
In October, Elliott made its appeal for change, arguing that Samsung should return more cash to its shareholders. Samsung has a dividend yield of about 1.3 percent compared with roughly 2 percent for Apple Inc. and 2.4 percent at Microsoft Corp.
"Clearly the political environment is changing in Korea and seemingly in a direction that will make it harder for the status quo for the chaebols to persist," Daniel O'Keefe, managing director of Artisan Partners, which backed Elliott, said before the changes were announced. Artisan holds more than 1 million Samsung Electronics shares and has owned stock in the company for more than a decade, according to data compiled by Bloomberg. "We think it is natural that all stakeholders demand better corporate governance."
Aberdeen Asset Management Asia, another investor in Samsung, had also supported Elliott's proposals. "It's certainly a positive start, and we're encouraged," said David Smith, head of corporate governance at Aberdeen. "We do look forward to hearing more details in due course."
— With assistance by Yoolim Lee
(
Updated with Elliott holding in seventh paragraph.
)
Before it's here, it's on the Bloomberg Terminal.
LEARN MORE