S. Africa's Zuma Asked to Resign by Three Ministers, News24 Says
Alastair Reed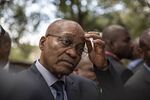 At least three members of South Africa's cabinet have called on President Jacob Zuma to step down or for the ruling party's National Executive Committee to vote to remove him, News24 reports.
Tourism Minister Derek Hanekom, Health Minister Aaron Motsoaledi and Public Works Minister Thulas Nxesi asked Zuma to resign, the Johannesburg-based news agency says, citing unidentified people with knowledge of the matter. The three cabinet members were supported by African National Congress chief whip Jackson Mthembu, News24 says.
The ANC extended the weekend meeting of its executive committee until Monday, spokesman Zizi Kodwa said on Twitter on Sunday.
Before it's here, it's on the Bloomberg Terminal.
LEARN MORE