Poloz Sees Heightened Uncertainty in Canada After Trump Win
By
Questions about trade, business investment weigh on economy

Governor says central bank is waiting to see actual policies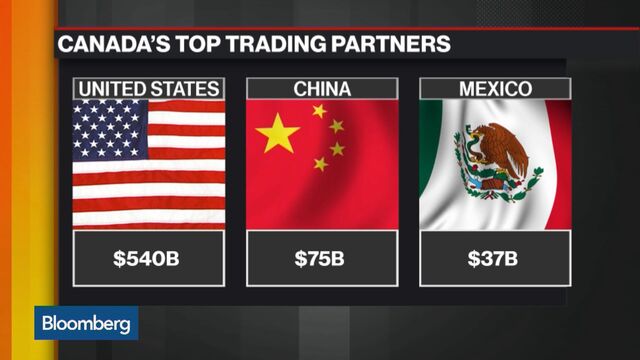 Bank of Canada Governor Stephen Poloz said it's too soon for the central bank to fully factor in policies linked to Donald Trump's election that have driven up global bond yields.
Poloz, in an interview with Bloomberg TV Canada's Amanda Lang on Monday, said the jump in yields doesn't reflect any actions taken by the U.S. government and the Bank of Canada sees it as hypothetical. Separately, he told a business audience in Toronto later in the day that Canadian monetary policy may still diverge from the U.S., where an economic recovery is more advanced.

"For now it's a hypothetical really," Poloz said in the interview, when asked about rising inflation expectations in the U.S. "There's no shock to go with that market reaction at this stage, and so for our own purposes we only incorporate actually announced policy changes, and there haven't been any of those."
The governor acknowledged last month he considered cutting his 0.5 percent interest rate, but chose to wait for more evidence of the economy's momentum, with the next decision due Dec. 7. Since the U.S. presidential election, however, investors have pared expectations for a Canadian rate cut amid speculation policies introduced by the Trump administration would spark growth and inflation.
The bet is that global inflation will pick up as the president-elect and a Republican Congress combine to boost U.S. government spending. Faster growth in the U.S. could then spill over into Canada and help Poloz meet his mandate of keeping inflation at 2 percent -- a mark that hasn't been exceeded since October 2014.
Higher Yields
While Poloz declined to speculate on the impact of future U.S. policy, he did say recent increases in bond yields will factor into the Bank of Canada's monetary policy deliberations at its next rate decision, along with a number of other "moving parts."
"Certainly it affects our calculus because we are importing some of that bond market move, as we always do," Poloz said in the interview.
"There are so many other moving parts it's important we just put that into context," he said. "For the decision next week we will bring all of those things together and give it a bit of a bash around."
Growth in Canada this year has been weakened by tepid exports and uncertainty about business investment because of U.S. elections. Finance Minister Bill Morneau's decision last month to set tougher mortgage lending rules may also weigh the economy down.
Long Movie
Poloz likened Canada's comeback from crude oil prices plunging to a "long movie," in comments after a speech Monday, where he said damage from lower commodity prices and lost exports are equal to about 4 percent of gross domestic product.
He also said the long running global recovery is still vulnerable, meaning he can't yet rule out the prospect of deploying tools like negative interest rates or asset purchases known as quantitative easing. "The day I put that toolkit away, and pack it away, I will let you know, because that will be a happy day," he said.
The central bank governor said more time is needed to figure out if business investment, which has held back growth this year, will revive after the U.S. election. Trump's comments around trade were a concern and may have impacted investment decisions by Canadian businesses over the course of 2016, Poloz said.
"The rhetoric was a source of concern, not just for us but for business sentiment in general, and companies that we talk to before and after are of course uncertain about the future in that respect," Poloz said.
"No doubt the uncertainty level remains high," Poloz said. "Canada is very reliant on trade, so anything that disturbs that is of course a question mark."
'On Track'
Poloz also said in the interview that on average Canada's economic growth rate for the second half of the year appears to be in line with the central bank's October projections. "I think we're averaging about 2 percent growth in these two quarters, thereabouts," he said. "Until we see a reading that's different from that, I think we're on track."
The central bank governor added that it would take another significant shock to the economy for policy makers to add further stimulus.
"Right now it looks to us like we can have inflation back at target, coming from below, around the middle of 2018, and that's a reasonable time frame over which to keep your inflation on target," he said. "It would require for us to have a significant departure in that outlook, such as we had in the case in the oil price shock."
Before it's here, it's on the Bloomberg Terminal.
LEARN MORE