Park Haunted by 2014 Korea Ferry Deaths as Grip on Power Weakens
By
Park moves to quash rumors on her movements as disaster struck

Presidential Blue House sets up 'facts' section on website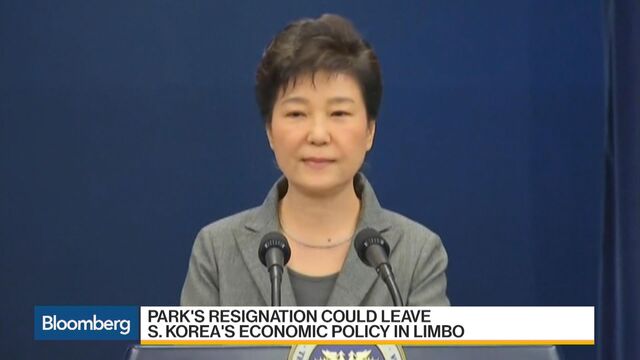 The seven hours of national horror following the deadly Sewol ferry sinking in 2014 continue to haunt South Korean President Park Geun-hye.
Opposition lawmakers and media groups seeking her ouster have revived rumors that she was missing-in-action and ultimately oblivious to the magnitude of the nation's biggest maritime disaster in more than four decades.
They say she may have been performing a shamanic ritual at the official presidential residence; undergoing cosmetic treatment; deep asleep after taking a powerful anesthetic; or with the ex-husband of her friend Choi Soon-sil -- the woman at the heart of an influence-peddling scandal threatening her grip on power.
This conjecture prompted Park's administration to take the unusual step earlier this month of setting up a new "facts" section on the Blue House website. It calls the allegations "vicious and false," and states that she spent most of the seven hours in question in her residence receiving briefings and issuing orders in writing or by phone 30 times.
"We wanted to explain based on facts as wrong media reports and speculation are sprawling, causing great confusion to the public," Kim Dong-jo, a Blue House spokesman, said by phone.
Facing an impeachment vote as early as this week, the nation's first female leader is clinging onto the presidency. Her approval rating sunk to an all-time low of 4 percent last week, and hundreds of thousands of people marched to her office at the weekend to demand her arrest. Her response to the ferry sinking more than two years after the disaster that claimed more than 300 people lives -- mostly high-school students --appears to have deepened the resentment.
Click here for an explainer of the scandal rocking South Korea
"All of a sudden, she set up this 'facts' page only to save her face as she's now surrounded by embarrassing speculation," said Jun Myoung-sun, who lost his teenager son and is a representative of a group demanding the wreck's salvage. "Every minute and second counted to save young lives -- but she wasn't there, and didn't explain why."
The outpouring of grief after the sinking created a funk in Asia's fourth-biggest economy. Park's approval rating dropped to a then record-low of 29 percent, with the Gallup Korea polling company citing her poor communication with the public. While public anger appeared to have eased when Park's ruling party managed to extend its parliamentary majority in special elections a few months later, the current scandal has brought back painful memories.
Ka Sang-joon, who's been teaching Korean politics for 11 years at Dankook University, said Park's latest move to address the allegations was unlikely to help.
"The Blue House probably wanted to stem sprawling speculation over Park, but has been selective in addressing it, raising suspicions that what isn't explained is probably true," Ka said by phone. "With the public not believing in Park anymore, that strategy aimed at easing public distrust clearly isn't working."
Odd Question
Questions on her whereabouts quickly turned to anger when Park asked an eyebrow-raising question after she eventually appeared. She asked why students in life jackets couldn't easily be found in the water, prompting emergency workers to tell her they were stuck in the sinking ship. Park and her staff have said little since on these remarks.
The JTBC cable TV network has been ramping up the allegations. The broadcaster has reported in recent weeks that Park used to get treatment at a famous anti-aging clinic before and after she became president. The TV station also claimed there was evidence that Choi and her sister had illegally received prescription drugs on Park's behalf. Further fanning the speculation, the doctor for Choi's sister declined to say whether he was treating Park on the day that the students were drowning.
Other embarrassing revelations have recently come to light. Opposition lawmaker Kim Sang-hee last week cited data that showed the Blue House had bought Viagra and several types of anesthetic cream used for cosmetic treatment.
"I wonder why the Blue House needed so much," Kim said. "With a president's health directly linked to the nation's security, I think any kind of remedy or treatment should be conducted under strict standards, but I doubt that it was the case for Park."
Park's office explained on its website that all the medicines were purchased for the needs of Blue House staff, and that the Viagra was bought to help with altitude sickness during overseas trips.
Impeachment Bill
Lawmakers are seeking to submit a bill to impeach Park as soon as Dec. 2, which would need backing from two-thirds of the 300 members of the National Assembly. While the body is controlled by Park's ruling Saenuri party, some members have indicated they will vote with the opposition to remove her.
South Korean law stipulates that the Constitutional Court should make the final decision within 180 days after it receives an impeachment proposal, with six of nine judges needed to approve the measure. Either impeachment or Park's resignation would trigger a presidential election within 60 days, with the prime minister taking over as interim leader.