One Chart Shows Why the Buyback Bonanza Will Keep Going Despite Rising Yields
De-equitisation remains a key global investment theme, says the bank.
by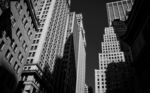 The recent spike in global bond yields isn't enough to make a key source of demand for equities throughout this current bull market vanish, according to strategists at Citigroup Inc.
"De-equitisation remains a key global investment theme for the next 12-18 months," writes Chief Global Equity Strategist Robert Buckland. "As the cost of equity still remains high relative to the cost of debt it makes sense for companies to de-equitise – use cheap financing to buy back their own shares."

Buybacks, buoyed by ultra-low corporate borrowing costs, have enabled firms to boost earnings per share by shrinking the denominator, flattering their bottom-line performance.
Since the U.S. presidential election, bond markets have been quick to price in the potential for 'Trumpflation' in anticipation of tax cuts and infrastructure spending under a new administration, sending yields higher. All else being equal, this should crimp the attractiveness of debt-fueled share repurchase programs.
But the gap between the cost of borrowing for American and European firms compared to the cost of equity, as highlighted by Citi, points to the continued appeal of buying back stock.
Separately, analysts at Deutsche Bank AG argued that the selloff in fixed income would have to go much further — taking 10-year investment grade bond yields up to 4.5 percent — before those higher yields would push up S&P 500 companies' cost of servicing debt and hurt bottom-line performance.
Over the past year, the S&P 500 Buyback Index (which charts the performance of the stocks with the highest buyback ratio) had underperformed the S&P 500 Index right up until Nov. 10, two sessions after the election. That's because another aspect of President-elect Donald Trump's fiscal plan — a tax break for American multinational firms that entices them to bring some of their cash hoard back stateside — could prompt firms to ramp up their share repurchasing programs next year.

Strategists at Goldman Sachs Group Inc. said a repatriation tax holiday could boost buybacks by 30 percent in 2017, compared to a projected increase of only 5 percent without such a measure. "A significant portion of returning funds will be directed to buybacks based on the pattern of the tax holiday in 2004," wrote Chief U.S. Equity Strategist David Kostin. 
Before it's here, it's on the Bloomberg Terminal.
LEARN MORE