Asian Stocks Rise as China Gains, Topix Continues Winning Streak
By
Shanghai Composite Index jumps amid China industrial data

Topix climbs for 12th day in longest rally since June 2015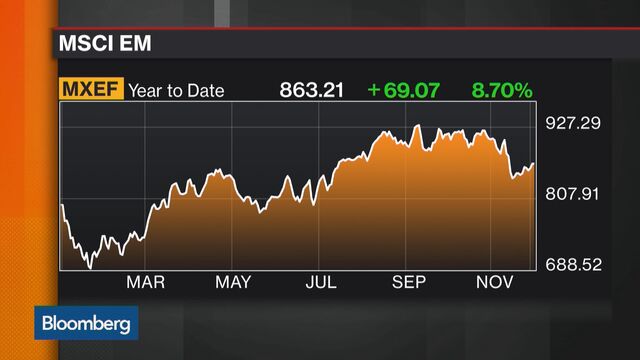 Asian stocks advanced to the highest level in three weeks as China shares climbed and Japan equities extended their longest stretch of gains since June 2015.
The MSCI Asia Pacific Index rose 0.8 percent to 136.84 as of 4:23 p.m. in Hong Kong as gains in utility and technology shares offset losses in energy producers. Railway stocks led a gauge of Chinese shares traded in Hong Kong to a seven-week high. The Shanghai Composite Index reached the highest since January, as data showed profit at industrial companies in China accelerated last month. Japan's Topix index advanced for a 12th day as banks rallied.
Asia-Pacific shares are extending advances after posting the first weekly increase this month as a weaker yen spurred gains in Japanese equities and optimism grew that the U.S. economy will be able to cope with higher borrowing costs. The S&P 500 Index rose 0.4 percent to close at a record.
"All the moment markets are focusing on all the positives around what the U.S. election might mean and the implications for growth," Mark Lister, head of private wealth research at Craigs Investment Partners in Wellington, which manages about $7.2 billion, told Bloomberg Radio's Daybreak Asia program. "There's a little bit of complacency out there. Emerging markets could still come under pressure as people come to grips with the new leadership in the U.S."

The Topix index climbed 0.3 percent to the highest level since the Bank of Japan introduced negative interest rates in January. Bank shares gave the biggest boosts to the benchmark gauge as all three Japanese megabanks climbed. Before the June 2015 winning streak, the longest stretch of gains for the Topix was in August 2009.
The S&P/ASX 200 Index slid 0.8 percent, weighed down by energy shares after the gauge closed at the highest since August on Friday. New Zealand's S&P/NZX 50 Index advanced 0.1 percent and South Korea's Kospi index added 0.2 percent. Vietnam's VN Index sank 1.6 percent, while Philippine equities retreated 0.9 percent to halt a three-day gain.
Hong Kong's Hang Seng Index advanced 0.5 percent, while the Hang Seng China Enterprises Index jumped for a seventh day to the highest level since October. CRRC Corp. led gains on the measure after saying its unit is planning an offshore acquisition and a separate unit signed a train contract with the Australian government. 
Trading Link
The Hang Seng Composite Small Cap Index gained 1.8 percent after regulators announced the start date for a trading program between Hong Kong and Shenzhen. Mainland investors will be able to trade some smaller companies listed in Hong Kong from Dec. 5, when the link between Shenzhen and the city is due to begin.
The Shanghai Composite increased 0.5 percent. China's industrial profits rose 9.8 percent in October from a year earlier, the National Bureau of Statistics said Sunday, faster than the 7.7 percent increase in September. Increasing profit and stronger producer-price inflation may help industrial companies gain ground in paying down debt. The recovery comes amid steady economic growth that endured the imposition of government rules to cool property market speculation.
Strong U.S. economic data and the prospect of increased spending under President-elect Donald Trump have fueled a surge in bets on Federal Reserve rate hikes, propelling gains in the dollar and U.S. shares. That's spurred a rout in emerging-market assets that faded on Friday as currencies recovered.
U.S. gross domestic product data is due before monthly payrolls figures on Friday. Italy's constitutional referendum Dec. 4 could provide another flash point for investors concerned about a rising anti-establishment element globally, along with the OPEC meeting on Wednesday as producers struggle to agree on an output freeze.
Oil prices extended declines below $46 a barrel. The Organization of Petroleum Exporting Countries will meet in Vienna to try to finalize the terms of its first production decrease in eight years. Yet the group remains divided about how to share the curbs internally and Khalid Al-Falih, the Saudi oil minister, has opened the door to leave the group's production unchanged.
"We expect demand to recover in 2017, then prices will stabilize, and this will happen without an intervention from OPEC," Al-Falih said on Sunday, according to the Saudi newspaper Asharq al-Awsat.
Before it's here, it's on the Bloomberg Terminal.
LEARN MORE