business
Oil Slides Amid Uncertainty Over OPEC Deal as U.S. Stocks Climb
Lukanyo Mnyanda and Emma O'Brien
Industrial metals sink on signs China is damping speculation

Dollar relinquishes post-GDP data gains as Treasuries rise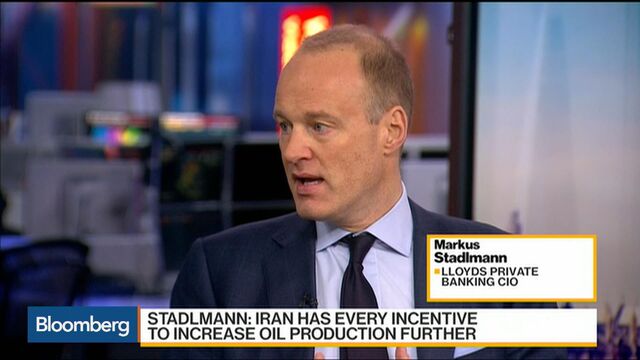 Crude oil dropped below $46 a barrel on concern an OPEC deal to stabilize prices is in jeopardy as major producers disagree on curbing output. The dollar retreated, while U.S. equities ended higher after paring gains.
U.S. oil fell to a two-week low after 10 hours of technical talks failed to resolve differences between crude-producing nations, with Iran objecting to proposed production cuts. The S&P 500 Index rose after Monday's retreat, with gains in health-care and bank stocks offsetting losses among energy shares. A rally in metals fizzled on signs China is taking steps to cool a trading frenzy in commodities. The dollar reversed early gains, while Treasuries edged higher as optimism over better-than-expected data on U.S. economic growth faded.

"The meeting of OPEC members in Vienna will likely continue to steal headlines," said Kymberly Martin, a markets strategist in Wellington at Bank of New Zealand Ltd. "Any failure to reach a deal would likely see further declines in the WTI price and potential pressure on commodity-linked currencies."
With the market giving just 30 percent odds to an agreement to end the oil supply glut, according to Goldman Sachs Group Inc., pessimism around the make-or-break OPEC talks is helping quell a commodity rally sparked by Donald Trump's surprise U.S. presidential victory. Investors are retreating from some of November's standout trades as the month comes to a close, with the dollar pulling back from decade high reached as Trump's election fueled bets on interest-rate hikes. The highly anticipated monthly U.S. payrolls report is due Friday, after data Tuesday showed growth last quarter beat forecasts.
Commodities
West Texas Intermediate crude futures slipped 3.9 percent to $45.23 a barrel as of 4 p.m. in New York, after rising 2.2 percent on Monday.
Saudi Arabia has said it is ready to reject an agreement unless all OPEC members, excluding Libya and Nigeria, take part, people familiar with the kingdom's position said.
Copper fell from its highest level in more than a year as the main industrial metals tumbled in London.
The Shanghai Futures Exchange and Dalian Commodity Exchange have raised margins and fees to ease a trading frenzy that's fueled aggressive price gains this month, and further measures are expected, according to Citigroup Inc. analysts.
Gold for immediate delivery fell 0.5 percent to $1,189.01 an ounce.
Currencies
South Africa's rand sank 1 percent, the worst selloff among major currencies Tuesday, after President Jacob Zuma staved off a bid by officials in the ruling party to oust him.
The yen weakened 0.4 percent to 112.39 per dollar, snapping a two-day rebound to be headed for its biggest monthly drop since 2009.
Speculation that President-elect Trump will pursue inflationary spending and tax policies has weighed on Japan's currency and those of emerging-market nations, with odds of a Federal Reserve rate hike hitting 100 percent in the futures market.
The Bloomberg Dollar Spot Index fell for a third day, erasing an earlier 0.4 percent advance that came after data showed U.S. output expanded at the fastest annual rate in two years in the third quarter.
Stocks
The S&P 500 rose 0.1 percent to 2,204.66 as all but two main industry groups climbed.
The Dow Jones Industrial Average added 0.1 percent as well, while the Nasdaq Composite Index climbed 0.2 percent.
Tiffany & Co. climbed 3.2 percent on improving sales in China and Japan and as the jewelry company signaled that the worst of the downturn period may be over.
The Stoxx Europe 600 Index gained 0.3 percent, after dropping 0.8 percent Monday.

Actelion Ltd. rallied 10 percent after Johnson & Johnson was

said

to have raised its takeover offer for Europe's largest biotech firm.

Asian index futures were split, with contracts on stock gauges in Japan, Australia and South Korea rising, while those on Chinese benchmarks declined.
Bonds
Yields on 10-year Treasury notes slipped one basis point, or 0.01 percentage point, to 2.30 percent, falling for a second day after spiking up by four basis points earlier in the session. 
Italian bonds advanced, pushing 10-year yields down 11 basis points to 1.96 percent as demand increased at auctions of 10- and five-year securities. 
Prime Minister Matteo Renzi's office denied news reports that he is considering stepping down even if he wins the Dec. 4 referendum on constitutional reform.
— With assistance by Heesu Lee, Natasha Doff, Mark Burton, Andrew Reierson, Neil Denslow, Luzi-Ann Javier, Camila Russo, Stephen Kirkland, and Namitha Jagadeesh
Before it's here, it's on the Bloomberg Terminal.
LEARN MORE