Merkel Criticizes U.S. Campaign Rhetoric as Bad Example
By
German chancellor seeks to set tone for fourth-term bid

Audience member booed as he calls for Merkel's resignation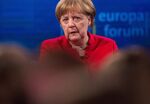 German Chancellor Angela Merkel deplored the tone of this year's U.S. election campaign, signaling she'll resist using populist rhetoric in her own bid for a fourth term.
Merkel, who declared last week that she'll run in next year's election, took her message to a town hall of her Christian Democratic Union on Monday where several members of the audience lambasted her open-border refugee policy as selling out the party's values. The event is part of the buildup to a national convention next week where CDU delegates are due to anoint Merkel, 62, as nominee.
"If there's one thing about the U.S. election campaign that I didn't like, it was the language used during the contest," Merkel said at the event in the western city of Heidelberg. Political opponents need to show respect for each other, she said.
While the CDU leads in all national polls, Merkel faces an unprecedented challenge from the anti-immigration Alternative for Germany, or AfD, which surveys suggest would win as much as 15 percent nationwide if elections were held now. The chancellor, whom the AfD vilifies, pushed back against its appropriation of the slogan "We are the people," which pro-democracy protesters chanted as East Germany's communist regime collapsed in 1989.
"Everybody gets to define who is the people, not just a few," Merkel said.
Underscoring anxiety in parts of the CDU, a man who said he's been a party member since 1960 urged Merkel to step down, saying she stood by while "letting young men into the country" in last year's record refugee influx.
With others in the audience booing, Merkel defended the commenter's right to speak. "I know that there also are refugees who did terrible things," she said.
Before it's here, it's on the Bloomberg Terminal.
LEARN MORE