London Mayor Says EU Citizens May Stay in Capital After Brexit
By
Khan says he's received assurances from prime minister's team

May and others understand 'importance of London,' says Khan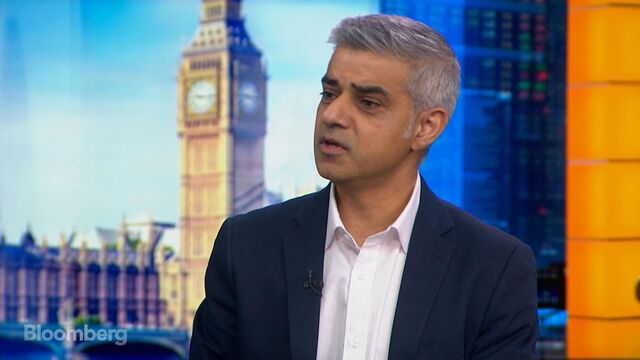 London Mayor Sadiq Khan said he received private assurances from the British government that European Union citizens living in the capital will not be compelled to leave the country.
Prime Minister Theresa May's team has told Khan it would be "inconceivable" to require Europeans to move out after the U.K. leaves the 28-member bloc, he said in an interview with Francine Lacqua on Bloomberg Television in London. About 1 million EU nationals are living in London, a city of 8.6 million people, according to the mayor's office.
"The idea that people can be used as bargaining chips is offensive," Khan said. "I have got no doubt at all, and I have been told this by members of the government: it's inconceivable -- that's the word used, 'inconceivable' -- that you would be forced to leave London, and that certainty is crucial."
The fate of EU citizens living in Britain as well as U.K. nationals resident in Europe is one of the most sensitive questions for May's government as it draws up its strategy for Brexit negotiations. In public, May has only said she hopes to reach a deal that would protect both Europeans and British expatriates - a position that has dismayed some in her own party.
Khan's comments suggest that her team has no intention of following through with the implied threat that EU citizens currently living in Britain might be coerced to go.
You're Welcome
"I am saying to you, if you're a Londoner who's originally from the European Union, you're welcome here and you're always going to be welcome here," he said.
The delicate issue was discussed by May and her Polish counterpart during talks in London on Monday. At a news conference after the summit, Prime Minister Beata Szydlo and May expressed hope that they would be able to reach an early agreement on residency rights.
In the interview, Khan warned that businesses could leave London for New York, Singapore and Hong Kong if the U.K. ends up with a hard Brexit. He indicated he supported Mark Carney, the governor of the Bank of England, who is reported to have called for a two-year transition deal for businesses in which the U.K. remains in the EU single market after Brexit.
"What Mark Carney is articulating is a frustration that if it is the case that the government wants to exit swiftly, there needs to be some transition because we can't afford to just fall off a cliff edge," Khan said. The "good news" is that May, Chancellor of the Exchequer Philip Hammond, Foreign Secretary Boris Johnson, Brexit Secretary David Davis and other senior ministers have told him they "understand the importance of London," Khan said.
He urged ministers to keep single-market access for businesses and to relieve the short-term uncertainty over Brexit, saying it's making it more difficult for companies to make investment decisions.
Before it's here, it's on the Bloomberg Terminal.
LEARN MORE