Fillon Unites French Right as Socialist Leadership Splits
by and
Former prime minister records overwhelming victory in runoff

Socialist premier Valls may challenge President Hollande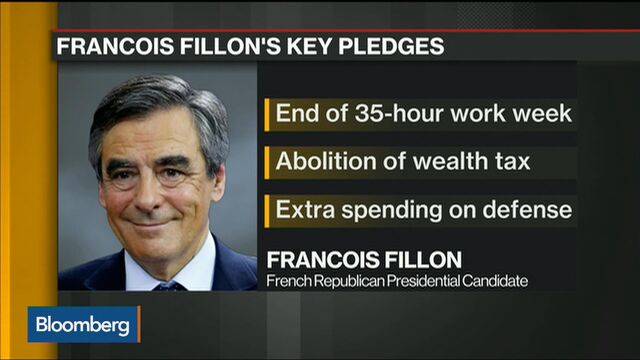 Francois Fillon sealed a resounding victory in the French Republican primaries to become the frontrunner for next year's presidential election just as rifts within the beleaguered Socialist government broke into the open.
French government bonds gained after Republican supporters opted for a self-confessed Thatcherite who pledges painful economic reforms, a shrunken state and who unabashedly embraces traditional values. They made their pick as Prime Minister Manuel Valls signaled he's prepared to challenge President Francois Hollande for the Socialist ticket if the incumbent decides to seek a second term.
"The big, big issue for Francois Fillon is how a candidate who has won massive support from his own camp goes on to become a candidate with broader appeal," Bruno Cautres, a professor at Sciences Po Institute in Paris, said in an interview. "What he has promised is a mix of social conservatism and economic liberalism with extremely tough reforms. I don't see how he is going to make that happen without mobilizing the left or the trade unions."
With the Republican candidate in place, former Economy Minister Emmanuel Macron a declared candidate and the National Front's Marine Le Pen already campaigning, the pressure is increasing on Hollande and the Socialists to sort out their own plans. Hollande, the least popular president in half a century, has promised to state his intentions within weeks while Valls made the strongest statement yet of his own plans over the weekend.
The right has chosen its candidate and "the question will be asked very rapidly: who will be their strongest opponent?" the prime minister said in an interview published Sunday by the Journal du Dimanche. "I am preparing. I am ready."
Read more: business leaders backing Fillon
Government spokesman Stephane Le Foll said in an interview on Europe1 radio that a sitting prime minister won't run against Hollande in the primary in January, signaling that Valls may be forced to step down if he wants to formalize his bid. Le Foll has previously said he's convinced Hollande will run again and on Monday he said the president will announce his decision in the coming days.
"This cannot continue, Hollande needs to announce something very soon," Cautres said. "The weekend was an absolute nightmare on the left."
Policy Plans
Fillon, a former prime minister and lifelong politician, won his party's nomination over his challenger, Alain Juppe, claiming about 67 percent of the 4.5 million votes cast, the election authorities said Monday as the final ballots were still being counted.
The 62-year-old romped to victory on promises to lengthen the working week, raise the retirement age and cut 100 billion euros ($106 billion) from government spending. He's also proposing a 40 billion-euro tax-cut for companies and a constitutional ban on planned budget deficits.
"Fillon has an audacious program that restores the authority of the state, which the French are waiting for," Philippe Goujon, a Republican lawmaker, said Sunday night in an interview at the candidate's victory party. "He brings together the liberals, nationalists, Gaullists, the authoritarian right. It will pull in voters from the National Front. Look at his margin of victory -- it's a tidal wave."
The yield on French government 10-year bonds was down 3 basis points as of 1:20 p.m. in Paris while the euro was little changed after earlier trading as much as 0.9 percent higher. The Paris Stock Market's CAC40 Index was down 0.8 percent, in line with other major European equity markets.
Centrist Opening
While Fillon's program has energized the Republicans' base and won the support of many corporate leaders, it also risks ceding some ground to potential rivals. Both Valls and the National Front spokesman Nicolas Bay said they see a chance to target blue-collar workers while centrists like Macron spy an opportunity with more moderate voters.
"You now have a conservative right, which has vision of French life from the 1960s and vision of the economy from the U.K. of the 1980s," Macron said on France 2 television. "On the other side you have the left proposing social justice that doesn't work. I want to bring France into the 21st century."

The Socialist efforts to convince voters that they can take the country forward have been hamstrung by Hollande's record in office. More than 200 people have died in terrorist attacks in two years, and the president has seen economic growth lag that of Europe as a whole. His approval rating dropped as low as 4 percent in one recent poll. The president's spokesman denied reports on Sunday that Hollande was planning a reshuffle of his cabinet imminently.
Two polls published Sunday showed the Socialist candidate -- whether Hollande or Valls -- would be ejected in the first round of the presidential election with Fillon beating Le Pen in both rounds to seal victory. Arnaud Montebourg, the former Industry Minister who is also seeking the Socialist nomination, called on the left to pull itself together.
"Against Francois Fillon, we need a candidate who is at the heart of the left, not a free-market socialist," Montebourg said. "We too can unite in a primary."
Watch Next: Is Europe Ready for More Political Uncertainty?
Before it's here, it's on the Bloomberg Terminal.
LEARN MORE