December 2016 Table of Contents: Spend Issue
By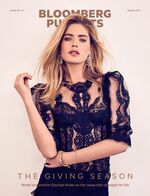 Does anyone else need a drink?
It's been quite a year, and we could all use some time off to celebrate what we have and the people we love. In October, Bloomberg Pursuits hosted a dinner with fashion designer Phillip Lim at the Whitney Museum, gathering friends to toast the holidays. We're also throwing a party in honor of you, our readers, on Tuesday, Dec. 6, at the Cadillac House in downtown New York.
In this issue, we feature our annual gift guide, an inspired collection of 116 gifts for those who have, well, everything else. Choose from a gold-plated telescope, a speaker that floats above the ground, and a dazzling diamond-and-sapphire necklace. There's even a leather toolkit from Armani/Casa. (Yes, toolkits can be stylish—welcome to Pursuits.)
With all that spending, it's a necessary good to give back. Our cover model, Doutzen Kroes, is a spokeswoman for Knot On My Planet, a campaign to help save elephants from extinction. Every 30 minutes, an endangered elephant is killed for its tusks. Kroes has helped raise more than $10 million for the cause.

I'm also thrilled to announce the launch of Bloomberg Pursuits' TV series, which brings to life the most exciting stories in each issue. Our premiere episode takes viewers all over the world—from the Bollinger vineyards in Champagne to taste the ultra-rare Vieilles Vignes Françaises, to Banff National Park in Canada to test-drive a slick Ferrari California T. The show is currently airing on weekends on Bloomberg TV, and you can also watch our videos online at Bloomberg Pursuits's homepage.
Have a wonderful New Year's—see you on the other side.
Seek
How a Reality TV Star Is Revitalizing Saville Row
Patrick Grant is on a mission to keep these British heritage brands in business.
The Essential History of Saville Row Innovation
London's most famous sartorial address may be synonymous with tradition, but it's been reinventing suits for the past 110 years.
Experience the Exquisite Pleasure of the New Ferrari California T
Tag along for a joy ride through the Canadian Rockies in this $231,000 sports car.
An Insider's Guide to Oslo
From world-class restaurants to cutting-edge museums, see the best of the Norwegian capital in three days.
Secrets of the World's Most Sought-After Champagne
How Bollinger makes its ultra-rare, ultra-delicious Vieilles Vignes Françaises
A Striking Credenza That Doubles As a Work of Art
Gas Italia's new multicolored credenza adds personality to spare rooms.
This 300-Year-Old Cocktail Recipe Still Packs a Punch
The festive party staple gets a delicious update
Meet the Royal Ballet's Newest Star
Akin Takada brings her unique style to the winter season in London.
This Revolutionary Instructor Can Teach You to Ski in Only Three Days
A lifelong snowboarder sees the light in Lake Tahoe
Discover Africa's Newest, Ultra-Luxury Safari Lodges
From geodesic domes to a minimalist mountain-view villa, these four properties bring amazing design into the most remote corners of Africa.
Learn the Secret Ingredient to Momofuku Milk Bar's Success
Owner Christina Tosi reveals how she's made a bakery empire, one Crack Pie at a time. 
Why a $1.3 Billion Suitmaker Bought a Tiny Australian Sheep Farm
Ermenegildo Zegna locks down some of the finest merino wool on earth
This $28,000 Alarm Clock Charges Itself on Air
Meet the moonphase clock from Swiss watchmaker Jaeger-LeCoultre
Spend
116 Luxurious Gifts for the Holidays
The best picks for the most important people on your list, from watches and gadgets to kitchen gear and home design.
Pursue 
The Supermodel on a Mission
Doutzen Kroes has spent the past decade rising to the top of her industry. Now she's on to the next challenge: Giving back.
Alexander Rossi Is Going to be the Next Big Thing in Auto Racing
The first American rookie to win the Indianapolis 500 in almost 90 years shows no signs of slowing down.
A Once-in-a-Lifetime Journey With Some of the Strangest Animals on Earth
June Thomas comes face-to-tusk with endangered walruses deep in the Alaska frontier.
Make a Scene With the Season's Most Festive Holiday Attire
Six top bartenders take a day off and put their most stylish foot forward at New York's Palace Hotel.
Jeff Goldblum and the Life-Changing Magic of Playing the Piano
Actor and professional smooth operator plays us a few bars on his lifelong musical passion.
Before it's here, it's on the Bloomberg Terminal.
LEARN MORE