Cooperman May Stick Client With Part of Legal Bill
By and
Firm is withholding less than 1% of assets being redeemed

Hedge fund manager expects insurance to cover all legal costs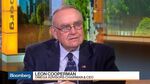 Leon Cooperman, the hedge fund billionaire accused of insider trading by the U.S. Securities and Exchange Commission, may turn to his investors as a last resort to help defray the costs of his legal battle with the government.
Cooperman's Omega Advisors is withholding less than 1 percent of assets being redeemed to cover legal costs if they far exceed what he's expecting, according to investors who asked not to be identified because the firm is private. He told clients he anticipates his insurance will cover all the expenses, and if necessary he'll spend some of his own money.
While hedge fund documents generally allow managers to charge legal and settlement costs to their clients, some wealthy managers who have been accused in criminal or civil cases haven't done so. Both Dan Och, head of Och-Ziff Capital Management Group, and Steve Cohen, who formerly ran SAC Capital Advisors, agreed to not pass along the expenses in cases against them or their firms.
The SEC alleged in September that Cooperman earned about $4 million in illicit gains in 2010 by using his status as one of Atlas Pipeline Partners' largest shareholders to obtain confidential information from a company executive. Before suing Cooperman, the commission pushed for a settlement that would have required about $8 million in penalties and prevented him from managing client money for a period of time, according to people familiar with the matter. Cooperman has denied wrongdoing and vowed to fight the agency's claims.
Insurance policies cover defense costs when a money manager is accused of wrongdoing, said Bill Passannante, co-chair of the insurance recovery group at law firm Anderson Kill. In SEC cases, the commission generally stipulates that penalties can't be paid with insurance money.
Cooperman, 73, founded New York-based Omega in 1991. The firm, which oversaw $9.4 billion in early 2015 when the SEC's trading investigation was disclosed, now manages about $4.6 billion.
— With assistance by Matt Robinson
(
Corrects fifth paragraph to say that the SEC does not allow insurance to pay penalties.
)
Before it's here, it's on the Bloomberg Terminal.
LEARN MORE