Brexit Impact Will Be Less Harsh Than Anticipated, OECD Says
By
Raises 2016, 2017 growth forecasts, with Brexit still a risk

Says BOE should maintain monetary stimulus despite inflation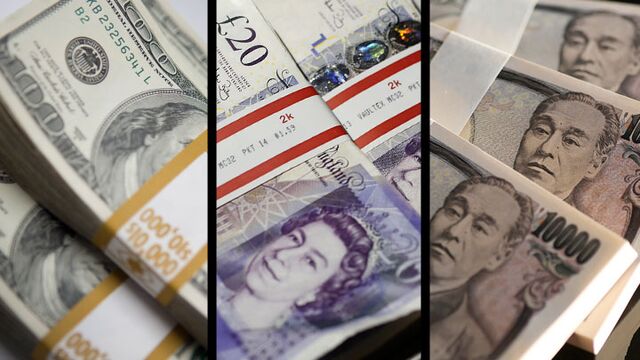 Brexit is going to cause the British economy to slow less than originally thought, according to the OECD.
The Paris-based Organization for Economic Cooperation and Development revised up its U.K. growth forecasts to 2 percent from 1.8 percent this year, and to 1.2 percent from 1 percent in 2017, according to its November Economic Outlook. An inflation-induced pinch on consumer spending and lower investment are likely to drive the slowdown, it said, and those threats could prove more troublesome than expected.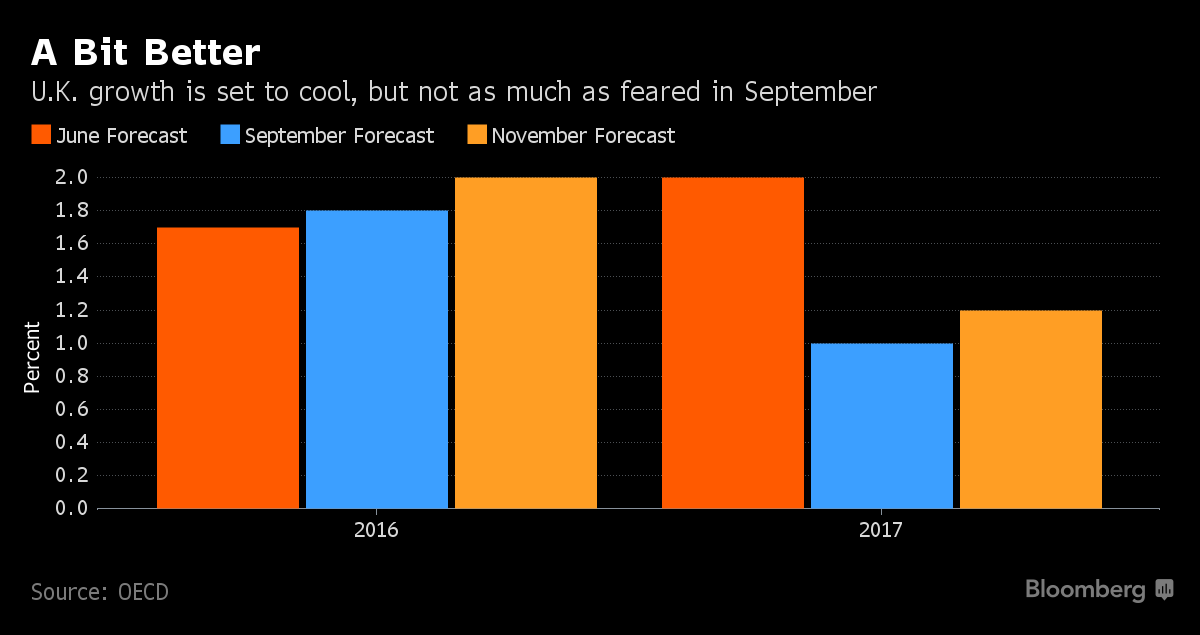 "The unpredictability of the exit process from the European Union is a major downside risk," the organization said Monday. "Uncertainty could hamper domestic and foreign investment more than projected and the pass-through of currency depreciation to prices could be larger, deepening the extent of stagflation."
While the forecasts assume the U.K. obtains "most favored nation" status under World Trade Organization rules after quitting the EU in 2019, they underscore the uncertainty surrounding the outcome of negotiations. The debate over the shape of Brexit gained further steam over the weekend, with Bank of England Governor Mark Carney reportedly telling bankers there should be a "buffer" period to give companies time to adjust to the U.K. leaving the bloc.
The BOE and OECD have been among the institutions criticized by pro-Brexit politicians for over-exaggerating the economic impact of the referendum. Even after revising up its growth outlook, the OECD is gloomier about next year than the central bank and the Office for Budget Responsibility, the independent fiscal watchdog that published forecasts last week.
The OECD forecasts the unemployment rate rising to 5 percent next year and to 5.6 percent in 2018. The depreciation in the exchange rate should help to boost exports and higher spending on labor market policies could enhance productivity, it said.
Chancellor of the Exchequer Philip Hammond's plan to raise the minimum wage should be implemented cautiously, the report also said, as growth slows and the labor market weakens.
Faster Inflation
The OECD predicts the economy will expand at a 1 percent pace in 2018, with inflation picking up to 2.4 percent in 2017 and almost 3 percent in 2018.
While price growth is expected to exceed the BOE's 2 percent target, policy makers should maintain monetary stimulus to "ease the cost of economic adjustment to the departure" from the EU, it said. BOE officials have said that their tolerance to above-target inflation is "limited."
Prime Minister Theresa May has pledged to start formal divorce talks by the end of March 2017, and there's no clarity yet on exactly what form of trade relationship with the single market the government is attempting to pursue.
"Improved prospects of an orderly exit from the European Union while retaining strong trade linkages with the bloc would support near-term growth more than projected," the OECD said.
Follow @Brexit for the latest news, and sign up to our Brexit Bulletin for a daily roundup.