Brexit Bulletin: Carney Hits the Brexit Buffer
Cross-party soft-Brexiters join forces while the governor aims for a transitional deal
By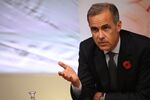 Sign up to receive the Brexit Bulletin in your inbox, and follow @Brexit on Twitter.
Bank of England Governor Mark Carney seems to have joined the camp against a quickie divorce from the European Union.
Carney last week told bankers that there should be a "buffer" to give companies time to adjust to the U.K. leaving the bloc, the Sunday Times reported yesterday. The transition would include Britain remaining in the single market for at least two years once it's left the EU, allowing firms to continue using current trading rules.
Businesses and banks keen for a transitional agreement will like the idea. Still, the most ardent Brexit campaigners fear such arrangements are a delaying tactic, and mistrust Carney over his pre-referendum warnings of economic hardship.
Lawmaker Michael Gove, who campaigned for Brexit, gave the idea of a "buffer" short shrift, days after former Prime Ministers Tony Blair and John Major independently said there is a case for a second referendum.
"There are some people who can't get over the fact that the British people have voted to leave the European Union and want to have a transitional arrangement that is as close as possible" to staying in the bloc, Gove told the BBC. 
"It's far, far better to provide people with certainty and to do so by having a clear, clean and simple approach."
Prime Minister Theresa May acknowledged in an interview with the Sunday Times that she had lost sleep having taken the job at a "hugely challenging time" for the country.
She hosts her Polish counterpart Beata Szydlo in London on Monday. Szydlo writes in the Daily Telegraph today that the EU must compromise as well as cooperate with the U.K. on security matters.
Pay to Stay?
Gove was among 81 U.K. lawmakers to write to European Council President Donald Tusk demanding an agreement is reached on rights for U.K. citizens living in the EU and those from the bloc living in Britain before Brexit talks are formally opened.
The letter asks Tusk to add reciprocal rights for citizens to the agenda for a European leaders meeting on Dec. 15 and says there is agreement across most EU states on the issue. 
Meanwhile, British citizens could pay an annual fee to retain some benefits of EU membership, Guy Verhofstadt, the European Parliament's representative on Brexit matters, told The Times.
The proposal will be voted on by members of the European Parliament and would have to be approved by all EU nations to become part of any Brexit deal.
Verhofstadt speaks in Brussels today, while European Central Bank President Mario Draghi speaks to the European Parliament. The European Commission's top Brexit negotiator, Michel Barnier, will sound out EU governments on Tuesday in Brussels about the forthcoming negotiations.
Cross-Party Soft Brexiters
Prominent lawmakers from the three main parties came together today to argue that leaving the single market would damage the economy. Conservative MP Anna Soubry, former Lib Dem Deputy Prime Minister Nick Clegg and one-time Labour leadership hopeful Chuka Umunna spoke at an event organized by the Open Britain campaign. 
Every major sector of the economy would be hit, according to research they've commissioned from the Centre for Economics and Business Research. 
Europe Votes
Francois Fillon last night completed an unexpected victory in the French Republican presidential primaries as rifts within the beleaguered Socialist government broke into the open.
Next Sunday, Italy will hold a constitutional referendum that could threaten Prime Minister Matteo Renzi's government. The same day, Austria has a presidential election in which the far-right Freedom Party candidate, Norbert Hofer, could prevail.
In Switzerland, parliament's upper house is to consider a compromise plan two years after voters backed immigration curbs that put the country on a collision course with the EU's rules.
The more the status quo is rejected or populist candidates win, the greater dilemma for those elsewhere in the EU about how they treat the U.K. and what politicial forces may be emerging in their own countries.
For more on Europe's political struggles, visit our special report page.
Business Lobbies Lobby Labour
The U.K.'s biggest business lobbies are seeking the help of the opposition Labour Party to make a positive case for immigration.
The Confederation of British Industry and the British Chamber of Commerce have urged Labour to put pressure on May to guarantee that EU citizens can remain after Brexit, two party officials with knowledge of the discussions told Bloomberg's Alex Morales. Businesses are also anxious that they maintain access to skilled and unskilled workers from the continent, the officials said.

May has been accused of making EU workers bargaining chips in the coming Brexit negotiations by refusing to guarantee their right to carry on living in the U.K. unless there is a reciprocal deal for Britons living in other European countries.
On the Markets
The pound may be set for a period of calm after volatility in the currency fell to the lowest since early October. Signs of economic strength are helping, as is chatter the government may not be able to start exit talks by the end of March. Donald Trump's election in the U.S. is also serving as a distraction.
Not so calm is Jim Mellon, chairman of the Burnbrae Group. He stood out among investors in supporting Brexit and now predicts the euro also will become a casualty of anti-establishment tide, according to Bloomberg's Stefania Spezzati.
Brexit Bullets
And Finally?
Did it all come down to underpants?
The polling organization YouGov found that 84 percent of those surveyed changed their underwear every day, yet that rose to 89 percent among voters who backed Remain and 81 percent for those who voted for Brexit.
For more on Brexit follow Bloomberg on Twitter, Facebook and Instagram, and see our full coverage at Bloomberg.com
(
Corrects 14th paragraph to say the meeting is being held by Open Britain.
)
Before it's here, it's on the Bloomberg Terminal.
LEARN MORE